Intuitions of Justice and the Utility of Desert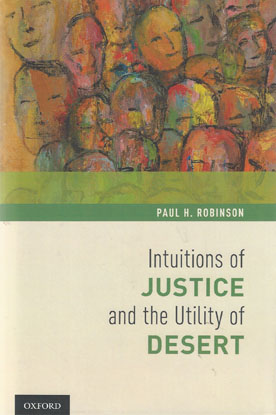 ISBN13: 9780199917723
Published: May 2013
Publisher: Oxford University Press USA
Country of Publication: USA
Format: Hardback
Price: £127.50

Usually despatched in 1 to 3 weeks.
Research suggests that people of all demographics have nuanced and sophisticated notions of justice. In this intriguing new book, Paul H. Robinson demonstrates that judicial decisions that deviate from public conceptions of justice and desert can seriously undermine the American criminal justice system's integrity and legitimacy by failing to recognize or meet the needs of the communities it serves.
Intuitions of Justice and the Utility of Desert sketches the contours of a wide range of lay conceptions of justice, touching many if not most of the issues that penal code drafters or policy makers must face, including normative crime control, universal understandings of justice, culpability, principles of adjudication, grading sentencing, justification defenses, and judicial discretion.
Robinson warns that compromising the American criminal justice system to satisfy other interests can uncover hidden the costs incurred when a community's notions about justice are not reflected in its criminal laws. By ignoring the intuitions of justice held by the communities they serve, legislators, policymakers, and judges undermine the relevance of the criminal justice system and reduce its strength and legitimacy, creating a gap between what justice a community needs and what justice a court or law prescribes.