Toward a New Federal Law on Arbitration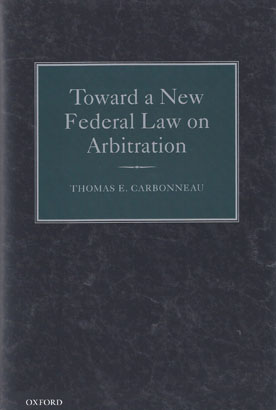 ISBN13: 9780199965519
Published: November 2014
Publisher: Oxford University Press USA
Country of Publication: USA
Format: Hardback
Price: £86.00

Despatched in 8 to 10 days.
Enacted as a special interest bill in 1925, the Federal Arbitration Act (FAA) positioned arbitration well among specialized merchant communities.
Its principles relating to the legitimacy of arbitration contracts and the limited judicial supervision of arbitral awards laid the foundation for a more detailed and effective legal regulation of arbitration. Despite the advanced character of its original content, the FAA was never significantly updated by the U.S. Congress, and the standing statutory provisions did not take into account the widening scope of arbitral jurisdiction and its revolutionary impact upon adjudicatory due process.
Thus, the task of adjusting the statute to new realities became the responsibility of the U. S. Supreme Court, exercising its duty over a half century and more than fifty cases with the ultimate goal to fulfill the expectations of U.S. citizenship and protect U.S. interests in global commerce. Toward a New Federal Law on Arbitration endeavors to repair the long-standing problem of updating the official text of the Federal Arbitration Act (FAA).
In this book, Thomas E. Carbonneau proposes to transform the FAA into a genuine national law of arbitration, based exclusively on the federal rules applicable to arbitration. He argues for necessary change in the federal law of arbitration that will not only benefit commercial interests and the U.S. economy, but also provide protection for smaller individual interests, such as consumers and employees.
This book joins the U.S. Supreme Court in proclaiming that judicial litigation is flawed. In the process, this book describes the current federal law on arbitration, provides and explains the provisions of the proposed law, while setting the stage for future adjudicatory practice.