None of Your Damn Business: Privacy in the United States from the Gilded Age to the Digital Age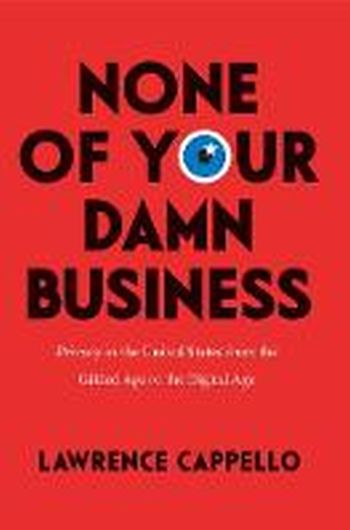 ISBN13: 9780226557748
Published: September 2019
Publisher: The University of Chicago Press
Country of Publication: USA
Format: Hardback
Price: £23.00

Despatched in 7 to 9 days.
You can't pass through an airport customs checkpoint without having your picture taken and your fingertips scanned, that information stored away in an archive you'll never see. Nor can you use your home's smart technology without occasionally experiencing uncertainty about what, exactly, that technology might do with what you've been sharing about your shopping habits and media choices. Every day, Americans surrender their private information to entities that claim to have their best interests in mind, in exchange for a promise of safety or simply the sake of convenience. This trade-off has long been taken for granted, but the extent of its nefariousness has recently become much more clear. As Lawrence Cappello's None of Your Damn Business reveals, the problem is not so much that data will be used in ways we don't want, but rather how willing we have been to have our information used, abused, and sold right back to us.
In this startling book, Cappello shows that this state of affairs was not the inevitable byproduct of technological progress. He targets key moments from the past hundred and thirty years of US history when privacy was central to battles over journalistic freedom, national security, surveillance, big data, and reproductive rights. As he makes dismayingly clear, Americans have had numerous opportunities to protect the public good while simultaneously safeguarding our information, and we've squandered those opportunities every time. The wide range of the debates presented here illustrates how, despite America's long history of praising individual freedom, we actually have one of the weakest systems for privacy protection in the developed world.
None of Your Damn Business is a rich and provocative survey of an alarming topic that only grows more relevant with each fresh outrage of trust betrayed.