Wigmore on Evidence 4th ed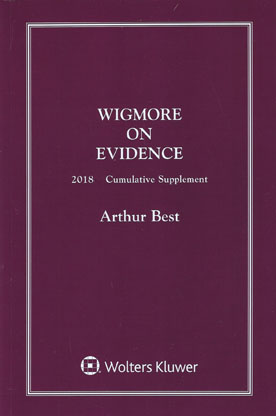 ISBN13: 9780316939706
Latest Release: May 18, 2020
Publisher: Aspen Publishers (Subs)
Country of Publication: USA
Format: Hardcover, 12 volumes + Supplement
Price: Price on Application

Subscription Type: Pay-as-you-go
Wigmore's great work continues to influence the law of evidence as we move into the 21st century. From doctrinal considerations such as the nature of inference and the exclusionary rules to case analysis involving such up-to-the-minute controversies as DNA "fingerprinting" and patient-psychotherapist privilege, this annually supplemented masterwork continues to provide authoritative guidance again and again.
With the most comprehensive coverage you'll find anywhere, Wigmore on Evidence encompasses all this and more:-
Admissibility
Relevancy
Circumstantial evidence
Character or disposition as evidence
Opportunity
Alibi
Proving capacity, design, or intent
Proving knowledge, belief, or consciousness
Proving motive, feeling, or passion
Proving identity
Mental derangement or immaturity
Moral depravity
Testimonial recollection
Confessions
Impeachment
Proving bias, corruption, or interest
Contradiction and self-contradiction
Rehabilitation
The hearsay rule and its exceptions
Opinions
Authentication of documents
Privilege
Confidential communications
Burdens and presumptions.