Principles of Australian Equity and Trusts: Cases and Materials 4th ed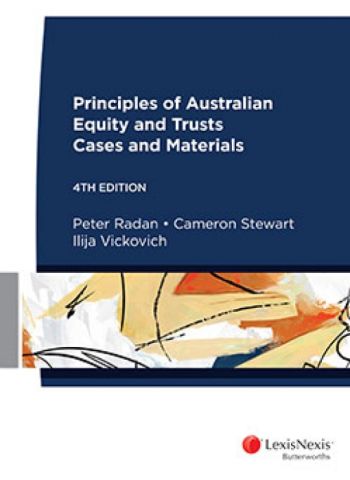 ISBN13: 9780409348194
Published: November 2018
Publisher: LexisNexis Australia
Country of Publication: Australia
Format: Paperback
Price: £88.00

Despatched in 6 to 8 days.
The key cases and materials relating to equity and trusts are drawn together to illustrate the reasoning processes of the court and the development of legal principles. Cases are carefully selected, edited, and cross-referenced to the companion textbook, Principles of Australian Equity and Trusts, to promote a deep understanding of this complex area of law. Both books follow the same chapter order and structure, making it easy to use them in tandem. The authors provide discussion of the key concepts, putting the case extracts into their legal context. Helpful analysis of each extract assists readers to understand why each case is important and the principle to be drawn from the decision.
New cases in the fourth edition include:
Cavendish Square Holding BV v Makdessi; ParkingEye Ltd v Beavis (2016) on penalties
Chamberlain Early Learning Centre Pty Ltd v Precious 1 Pty Ltd (2017) on equitable set-off
City of Mandurah v Australian Flying Corps and Royal Australian Air Force Association (WA Division) Inc (2016) on charitable trusts
Crown Melbourne Ltd v Cosmopolitan Hotel (Vic) Pty Ltd (2016) on equitable estoppel.
Deutsch v Trumble (2016) on trust beneficiaries
Free Serbian Orthodox Church Diocese for Australia and New Zealand Property Trust v Bishop Irinej Dobrijevic (2017) on charitable trusts
Paciocco v Australia and New Zealand Banking Group Ltd (2016) on penalties
Simic v NSW Land Housing Corporation (2016) on rectification
Thorne v Kennedy (2017) on undue influence
Wilson v Ferguson (2015) on confidential information.
This book and its companion text,
Principles of Australian Equity and Trusts
, combine to make an ideal resource for students of equity and trusts, practitioners, and anyone wishing to understand this complex area of law.
Features


Engages students with the sources of law in these subjects
Puts cases and principles into context
Cases are selected and edited for relevance
Aligns with Australian courses in Equity and Trusts
Easy and convenient navigation between the case book and companion text