The White Book Service 2012: Civil Procedure Volumes 1 & 2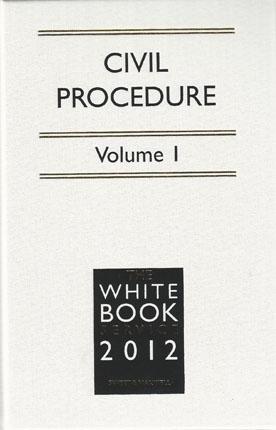 ISBN13: 9780414023819
Published: March 2012
Publisher: Sweet & Maxwell Ltd
Country of Publication: UK
Format: Hardback, 2 Volumes
Special Offer: Out of print
(Usual price £250.00)
Used by more judges, barristers and solicitors in England and Wales, the White Book 2012 gives you everything you need to practice whether in the High Court or county courts.
Look at civil procedure the White Book way in 2012 and:-
Have access to unrivalled expertise from an author team lead by The Right Honourable Lord Justice Jackson
Find all the support materials and services you need to make a case go smoothly
Have access to an Updating Service designed to make keeping current easy
CIVIL PROCEDURE VOLUME I
White Book 2012 Volume 1 contains the core materials and is principally devoted to the Civil Procedure Rules and accompanying commentary, essential for use in court.
Civil Procedure Rules and Practice Directions
Miscellaneous Practice Directions and Practice Guidance
Pre-action Protocols
Procedural Guides
Table of Time Limits
Glossary
CIVIL PROCEDURE VOLUME 2
Volume 2 contains materials relating to special procedures under CPR Parts 58 to 63, court guides, plus essential guidance on specific practice areas.
Litigation and Procedural Topics
Volume 2 also includes a series of Litigation and Procedural Topics. Designed for quick and easy reference, these extended commentaries give you in-depth coverage of critical issues. They present a thematic assessment of key issues which, in combination with the annotation of the Civil Procedure Rules in Volume 1, provide an indispensable research aid.
Court Guides including the full text of the Queen's Bench, Chancery and SCCO Guides
Specialist proceedings (Parts 58 to 63)
Other proceedings on specific practice areas, including:-
Consumer credit
Contempt of Court
Housing
Human Rights
Insolvency
Personal injury
Supreme Court and Privy Council Appeals
European jurisdiction
Administration of funds, property and affairs
Legal representatives – costs and litigation funding
Limitation
Jurisdictional and procedural legislation
Court fees
Litigation and Procedural Topics:-
Overriding Objective
CPR: Application, amendments and interpretation
Rights of Audience
Alternative Dispute Resolution
Interim Remedies