The White Book Service 2011: Civil Procedure Volumes 1 & 2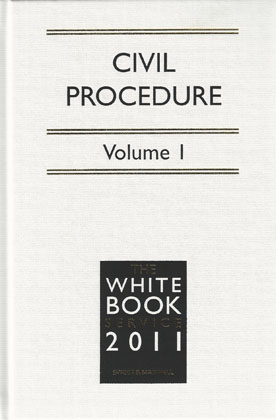 ISBN13: 9780414047600
Published: March 2011
Publisher: Sweet & Maxwell Ltd
Country of Publication: UK
Format: Hardback, 2 Volumes
Price: Out of print

White Book 2011: Volumes 1 & 2 with Forms Service
THE DEFINITIVE STATEMENT ON CIVIL PROCEDURE
Offering unrivalled knowledge, practical guidance, and insight into civil procedure, The White Book gives you everything you need to practice to your optimum potential, whether in the county courts, High Court or Court of Appeal.
Ensuring you have the highest quality of information at every stage of your case, coverage spans commentary on specific practice areas, procedural guides, litigation and procedural topics, court guides and a wealth of CPR and miscellaneous practice directions. With two updating print supplements and 10 issues of Civil Procedure News, plus access to the online White Book Updating Service, subscribers to The White Book are kept fully briefed on changes throughout the year.
So, if having dynamic and authoritative insight on civil procedure is something you think you should have, think respected, think comprehensive – think The White Book
CIVIL PROCEDURE VOLUME I
Volume I contains the core materials and is principally devoted to the Civil Procedure Rules and accompanying commentary, essential for use in court.
Civil Procedure Rules and Practice Directions
Pre-action Protocols
Procedural Guides
Table of Time Limits
Glossary
CIVIL PROCEDURE VOLUME 2
Volume 2 contains materials relating to special procedures under CPR Parts 58 to 63, plus essential guidance on specific practice areas and court guides. Volume 2 also includes a series of Litigation and Procedural Topics. Designed for quick and easy reference, these extended commentaries give you in-depth coverage of critical issues. They present a thematic assessment of key issues which, in combination with the annotation of the Civil Procedure Rules in Volume 1, provide an indispensable research aid.
Court Guides including the full text of the Queen's Bench, Chancery and SCCO Guides
Specialist proceedings (Parts 58 to 63)
Other proceedings on specific practice areas, including consumer credit; contempt of court; housing; human rights; insolvency and personal injury
Appeals
European jurisdiction
Administration of funds, property and affairs
Legal representatives – costs and litigation funding
Limitation
Jurisdictional and procedural legislation
Court fees
Litigation and Procedural Topics: Overriding Objective; CPR: Application, amendments and interpretation; Rights of Audience; Alternative Dispute Resolution and Interim Remedies.
THE WHITE BOOK FORMS SERVICE
Included in all service options, The Forms CD provides an easy, flexible way to deal with court forms. The CD provides over 400 court forms in either PDF (some of which are editable and saveable), and RTF, which is accessible using most word processing applications. Updating CDs ensure you have the most up-to-date version available.
Subscribers to the The Civil Procedure CD service can access the Forms via that CD. Subscribers to the print only options are issued with a separate Forms CD. From March 2011 all forms will also be available through the online White Book Updating Service, which is accessible to all subscribers.
NEW AND UPDATED CONTENT FOR 2011
CIVIL PROCEDURE VOLUME 1:
Coverage of the Civil Procedure (Amendments No 2, 3 and 4) Rules 2010 and TSO Updates 53, 54 and 55
Pt 54 (Judicial Review and Statutory Review) and PD52 – amendments made by Civil Procedure (Amendment no 3) Rules 2010 (SI 2010/2577) and TSO Update 54 to make clear that the jurisdiction of the High Court in relation to judicial review proceedings may be exercised by a Divisional Court where the court so directs.
Pt 6 (Service of Documents) – amendments and new commentary subject to Civil Procedure (Amendment no 4) Rules 2010 and TSO Update 55
Costs – updated commentary and case law and includes new pro bono costs guidance, historic guideline hourly rates (to 2003) and new commentary on McKenzie Friends
Pt 25 (Interim Remedies & Security for Costs) – new commentary, including that of material non-disclosure
Pt 19 (Parties and Group Litigation) and Pt 68 (References to the European Court) – new commentary including material on Group Litigation Orders
Pt 65 (Proceedings relating to Anti Social Behaviour and Harassment) - commentary updated to take account of the new Section VIII (Injunctions under the Policing and Crime Act 2009) added to the Part by the Civil Procedure (Amendment No 2) Rules 2010 (SI 2010/1953) and the consequential amendments made to PD 65 by TSO Update 53
(Proceedings under the Prevention of Terrorism Act 2005) – brand new commentary on Special Advocates
RSC Order 115 (Confiscation & Forfeiture in Connection with Criminal Proceedings) – commentary updated after changes made by the Civil Procedure (Amendment No.2) Rules 2010 (SI 2010/1953) and TSO Update 53
RSC Order 17 (Interpleader) – new commentary in light of Huntress Search Ltd v Canapeum & DSI Foods Ltd
New Procedural Guide on Mesothelioma Claims
CIVIL PROCEDURE VOLUME 2:
New amendments made to the Admiralty & Commercial Courts Guide
Arbitration Proceedings – commentary added to take account of changes made to the Arbitration PD by TSO Update 53
Intellectual Property Proceedings - new commentary on Pt 63 and PD30 with regard to the Patents County Court further to the Civil Procedure (Amendment No.2) Rules 2010 (SI 2010/1953) and TSO Update 53. Commentary is included on Alk-Abello Ltd v Meridian Medical Technologies and Technical Fibre v Bell
Companies Act Proceedings – new commentary added in respect of the Companies (Unfair Prejudice Applications) Proceedings Rules 2009
Housing – coverage of Ravichandran v Lewisham LBC, and commentary updated to take account of the Mortgage Repossessions (Protection of Tenants etc) Act 2010 and Dwelling Houses (Execution of Possession Orders by Mortgagees) Regulations 2010. Additionally, the section now takes account of the Policing & Crime Act 2009 and Crime and Security Act 2010
Insolvency – commentary updated to take account of the Insolvency (Amendment) Rules 2010 which have made a number of significant changes affecting procedure
Data Protection - s.35 of the Data Protection Act 1998 on Disclosures required by law or made in connection with legal proceedings etc now included with commentary
Consumer Credit – commentary updated to include references to the Consumer Credit (EU Directive) Regulations 2010 and the Consumer Credit (Amendment) Regulations 2010. Additionally, the texts of the Consumer Credit (Agreements) Regulations 2010 and the Consumer Credit (Total Charge for Credit) Regulations 2010 are included online and on CD.
Discrimination - new commentary on the enforcement of the Equality Act 2010
Court of Protection – new Practice Direction on Costs added
Interim Remedies – new commentary added to Section 15