Craies on Legislation: A Practitioner's Guide to the Nature, Process, Effect and Interpretation of Legislation 11th ed with 2nd Supplement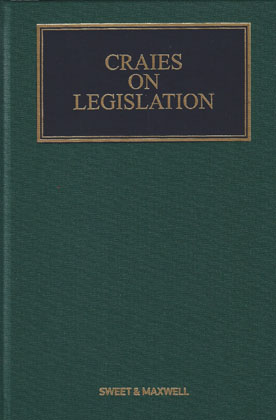 ISBN13: 9780414065796
Published: November 2018
Publisher: Sweet & Maxwell Ltd
Country of Publication: UK
Format: Hardback & Supplement
Price: Out of print

As the pace of legislative change at all levels continues to accelerate, it becomes increasingly difficult for practitioners to know how to follow and apply, and sometimes influence or challenge, the legislation that is relevant to their clients in every area of the law.
A highly practical resource, Craies provides clear and concise answers to the most common questions users of legislation have.  It aims to be an essential everyday guide covering primary legislation, subordinate legislation and devolved legislation, as well as EU legislation.  Craies is relied upon by practitioners in all fields, and is regularly cited in the higher courts.
The 2nd Supplement was published in November 2018
The 1st Supplement was published in August 2017
The Main Work was published in December 2016
The text includes chapters interpreting:-
Drafting principles for legislation
Different forms of quasi-legislation   
The procedures for the making and enacting of primary and secondary legislation   
The principles of interpretation
This new 11th edition is entirely up-to-date and provides essential and current commentary in fast-changing times.  Written by Daniel Greenberg, Counsel for Domestic Legislation in the House of Commons, it tells the latest episode in a number of long-running stories, including the Human Rights Act, Henry VIII Powers, Pepper v Hart, the slip rule in Inco Europe and many others.  
Recent cases of importance in the field of legislation (including Public Law Project v Lord Chancellor) as well  as important political developments in the fields of devolution and elsewhere (including the Strathclyde Report on the primacy of the House of Commons).