Reading Modern Law: Critical Methodologies and Sovereign Formations: Essays in Honour of Peter Fitzpatrick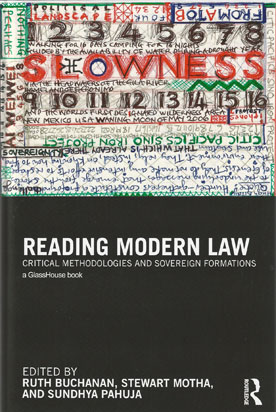 ISBN13: 9780415568548
Published: May 2012
Publisher: Routledge
Country of Publication: UK
Format: Hardback
Price: £125.00

Despatched in 4 to 6 days.
Reading Modern Law addresses the identification and elaboration of a critical methodology for reading and writing about law in modernity.
While the force of law rests on determinate and localizable authorizations, as well as an expansive capacity to encompass what has not been pre-figured by an order of rules, the key question this dynamic of law raises is how legal forms might be deployed to confront and disrupt injustice.
The urgency of this question must not eclipse the care its complexity demands. This book, whilst testifying to that complexity, offers a critical methodology for addressing its many challenges.
The essays in this volume – all direct or oblique engagements with the work of Peter Fitzpatrick – chart a mode of resisting the imperialism of social scientific method, as much as geo-political empire. Their authors elaborate a critical and interdisciplinary treatment of law and modernity, and outline the pivotal role of sovereignty in contemporary formations of power, both national and international. From various overlapping vantage points, therefore, Reading Modern Law interrogates law's relationship to power, as well as its relationship to the critical work of reading and writing about law in modernity.