Prosecuting War Crimes: Lessons and Legacies of the International Criminal Tribunal for the Former Yugoslavia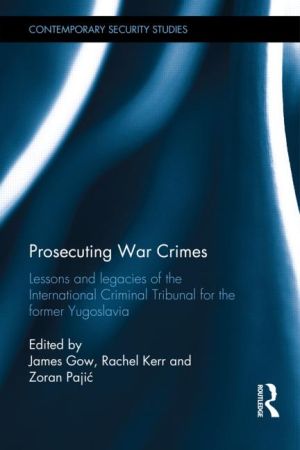 ISBN13: 9780415827997
Published: August 2013
Publisher: Routledge
Country of Publication: UK
Format: Hardback
Price: £130.00

Despatched in 5 to 7 days.
This volume brings together a range of viewpoints and approaches to the question of what International Criminal Tribunal for the former Yugoslavia's legacy will be in terms of its contribution to the restoration and maintenance of peace in the Western Balkans region. The International Criminal Tribunal for the Former Yugoslavia (ICTY) was created under Chapter VII of the UN Charter as a mechanism explicitly aimed at the restoration and maintenance of international peace and security.
This volume is timely, as we now have twenty years' experience upon which to draw, allowing reflection on the record and practices of the Tribunal and its impact. The first part of the book charts the establishment of the ICTY and discusses its record. The second and third sections focus on different aspects of its legacy. On the one hand, it has tried a large number of cases, covering many of the most egregious crimes committed during the war in former Yugoslavia and targeting those at the highest levels of political and military responsibility. It has also had enormous impact on the procedural, jurisprudential and institutional development of international criminal law and the international criminal justice project. This will be its international legacy, but what of its legacy in the region? Research has shown that reactions to the ICTY have been mixed among the communities most affected by its work. In some limited ways, it has contributed both to meeting the needs of victims to see justice done, and to countering denial of atrocities, but on the whole, it has failed fully to engage with people's experiences and meet their expectations. How and why this has come about is addressed in this part of the volume. The final chapters consider what lessons should be taken away from ICTY's experience for future tribunals.
This book will be of much interest to students of war crimes, international criminal law, Central and East European politics, human rights and peace and conflict studies.