Nietzsche & Legal Theory: Half Written Laws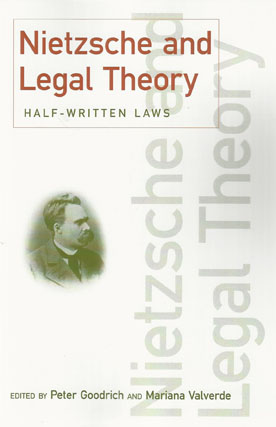 ISBN13: 9780415950800
ISBN: 0415950805
Published: January 2005
Publisher: Routledge
Country of Publication: UK
Format: Paperback
Price: £37.99

Despatched in 7 to 9 days.
The relevance of Nietzsche's work to legal studies has, in recent years, been increasingly recognized by legal scholars, political theorists, cultural theorists and feminists.
Best known for his radical critique of Judeo Christian morality (which would, in itself, warrant describing him as a legal thinker), Nietzsche developed insights about the history and the purpose of punishment, the codification of morals and laws, and the possibilities for ethical and legal creativity in the age following the death of God. However, there has yet to be a book-length study (at least in the English language) devoted to the subject of Nietzsche and law.
Nietzsche and Legal Theory is an anthology designed to provide legal and socio-legal scholars with a sense of the very wide range of projects and questions in whose pursuit Nietzsche's work can be useful. From medical ethics to criminology, from the systemic anti-Semitism of legal codes arising in Christian cultures, to the details of intellectual property debates about regulating the use of culturally significant objects, the contributors (from the fields of law, philosophy, criminology, cultural studies, and literary studies) demonstrate and enact the sort of creativity that Nietzsche associated with the 'free-spirits' to whom he addressed some of his most significant work.