A Practitioner's Guide to Wills 3rd ed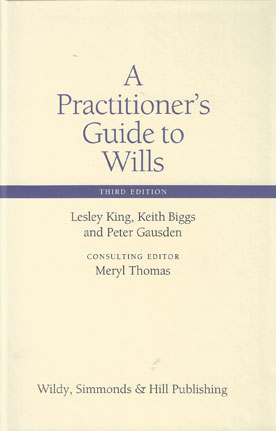 ISBN13: 9780854900725
Published: October 2010
Publisher: Wildy, Simmonds and Hill Publishing
Country of Publication: UK
Format: Hardback & CD-ROM
Price: Out of print

Wildy's Book of the Month - October 2010
This book will be shipped post free in the UK until the end of time
The third edition of this popular title provides a practical and comprehensive reference for all those concerned in drafting and interpreting wills, and in giving effect to their provisions.
The commentary is supported throughout by an extensive range of specimen clauses and model wills are provided in a separate appendix. All precedent material is included on the accompanying CD-ROM, enabling practitioners to adapt precedents for their own use.
Fully updated,
A Practitioner's Guide to Wills
features a new chapter on the use of Pilot Trusts and deals with the Mental Capacity Act 2005, Charities Act 2006 and Perpetuities and Accumulations Act 2009. It examines the impact of the legislative changes in recent years to tax planning, notably the new capital gains tax regime and the radical changes to the IHT treatment of trusts, particularly those affecting provision in wills for spouses and civil partners and children.
The impact on planning and drafting is also considered, together with the role that the nil rate discretionary trust might still have to play in financial planning notwithstanding the introduction of the transferable nil-rate band between spouses and civil partners.
The chapter on testamentary capacity has been fully revised in the light of the Mental Capacity Act 2005 and its effect on the application of the Banks v Goodfellow test as considered in recent cases including Re Perrins, Re Ritchie and Key v Key.