Wildy's Handbook for Magistrates 3rd ed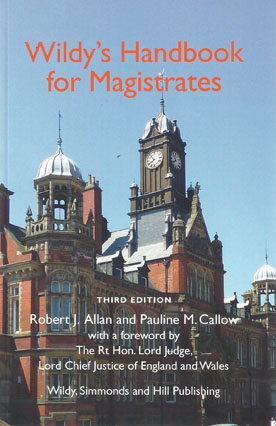 ISBN13: 9780854901128
Published: November 2012
Publisher: Wildy, Simmonds and Hill Publishing
Country of Publication: UK
Format: Paperback
Price: £19.99

Wildy's Handbook for Magistrates (previously published as Blackstone's Handbook for Magistrates) is a readable and comprehensive account of the work of magistrates in England and Wales.
It examines how magistrates are appointed; what they are empowered to do; how their courts are organised and operated; the kinds of matters they deal with – crimes such as theft and assault, traffic offences and issues concerning children and families; how they go about assessing evidence and deciding what to accept as true; how they decide whether defendants should be released on bail or kept in custody; the sentences they may impose and how they endeavour to make the punishment fit the crime.
The book also looks at how legal aid works, a subject of continuing public and political concern. Last, but not least, it gives a flavour of what life as a magistrate is really like, touching on the pressures, responsibilities and rewards of the work.
This new edition reflects the many changes introduced over recent years. These include revisions to the procedure for applying to become a magistrate and the training requirements; the introduction of the Criminal Procedure Rules, case management and other measures to reduce delay; the landmark Courts Act 2003; amendments to the Bail Act; and wholesale revision of the approach to sentencing.
The authors, one a deputy justices' clerk, the other a serving magistrate, bring two different, but equally important, areas of experience and expertise to the work and explain complicated concepts in a straightforward manner, keeping legal jargon to a minimum.
"...a must read...essential reading for new magistrates and those training to take the chair...also an invaluable reference guide for longer standing magistrates and for other professionals such as Probation, Social Services and newly qualified lawyers...I cannot recommend this outstandingly useful, clearly written and comprehensive book more highly."
Ruth Jacobs, The Beak (the magistrates' newsletter in the North London Jusice Area)
"…a welcome addition to the list of appropriate books for magistrates and prospective magistrates. It is aimed not only at newly appointed members of the bench, but will also be of considerable interest and assistance to those with more experience…there is a great deal of support for magistrates in this handbook. It will also be of interest to other court users including legal advisers and probations staff. This is a thorough and carefully researched work"
From a review of a previous edition in The Magistrate
"Magistrates old, new and prospective will gain much from this book…The authors have succeeded in providing a wide-ranging account of the work of lay magistrates. A lucid explanation of a magistrate's /work and duties is found in this book. The text is written with the non-lawyer in mind."
From a review of a previous edition in New Law Journal