Blackstone's Handbook for Magistrates 2nd ed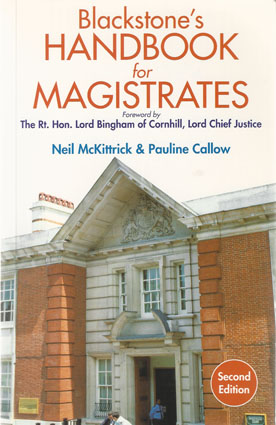 ISBN13: 9781854319463
ISBN: 1854319469
Published: February 2000
Publisher: Oxford University Press
Country of Publication: UK
Format: Paperback
Price: Out of print

Blackstone's Handbook for Magistrates provides a readable and comprehensive account of the work of lay magistrates in England and Wales. The work of the magistrate is set in its widest context and coverage includes:-
How to assess evidence
When to grant and when to refuse bail
How to decide sentence
Complicated concepts are explained in a straightforward manner and legal jargon is kept to a minimum. The Handbook is unique in addressing matters of concern to magistrates as individuals, such as the pressures, responsibilities and rewards of the work.
The second edition of this popular Handbook has been extensively revised to bring it completely up-to-date with law and procedure in the magistrates' court.
The book is an essential purchase for all magistrates and for those who may be interested in becoming a magistrate. It will also be of interest to anyone whose work may take them into the magistrates' court including lawyers, court legal advisers and probation officers.