Court & Bowled: Tales of Cricket and the Law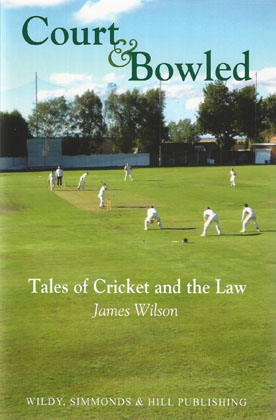 ISBN13: 9780854901401
Published: July 2014
Publisher: Wildy, Simmonds and Hill Publishing
Country of Publication: UK
Format: Hardback
Price: Out of print

January 2015: Court and Bowled: Tales of Cricket and the Law has been nominated for The Cricket Society and MCC Book of the Year Award 2015 and accepted for the long list.
'In summertime village cricket is the delight of everyone' the English judge Lord Denning famously wrote, in a case brought by someone who clearly disagreed with him.
The case was but one example of how the game of cricket cannot always avoid the law. Neighbours or passers-by get hit by stray cricket balls, protesters interrupt matches, players get into fights or take drugs, and not a few involved with the game sue each other for libel.
This book looks at a number of stories where cricket or cricketers gave rise to a legal dispute. It begins with a short history of cricket as it appears in the early law reports, including the case from 1598 which contains the very first known use of the word "cricket". It then turns to individual cases from Victorian times to the present day.
Some of the disputes have been of fundamental importance to the game itself. The ruling in Bolton v Stone affected village and indeed impromptu cricketers everywhere, while if Kerry Packer had lost his High Court action in 1978, his cricket revolution would have been over before a ball had been bowled.
Other cases raise issues going well beyond the boundary ropes: Basil D'Oliveira's omission by England from a tour of South Africa, for example, ended up being considered in the highest echelons of power in both countries.
All of the stories demonstrate something common to both cricket matches and court cases: behind the intrigue, entertainment and amusement of both there are real people and real human stories, with all the usual human emotions and fallibility.
The book will be of interest not only to cricket fans or lawyers but anyone interested in tales of high (and low) human drama and great ethical, moral and legal dilemmas.
Praise for James Wilson's Court & Bowled:
"A surprising gem … all in all, a thoroughly enlightening piece of work" Wisden Cricketer's Almanack, 2015 edition
"A thoughtful and well-written book … Most intriguing is the meticulous analysis of incidents where cricket assumed an importance far beyond a beloved game … The writer addresses all these with judicial impartiality, carefully maintaining a distinction between his narrative account of facts and personal and acute observations" Lord Judge, former Lord Chief Justice, The Times
'...contains a wealth of fascinating material. It is a must read for anyone who has an interest in these pursuits. The best of the book is to be found in his analytical treatment of some of the shared concepts of cricket and the law. The chapters on "The Law of the Game: the Spirit and Letter" and "The Umpire is Always Right" are outstanding' New Law Journal
'an interesting and entertaining collection of stories and cases' Law Society Gazette