Guantanamo and Beyond: Exceptional Courts and Military Commissions in Comparative Perspective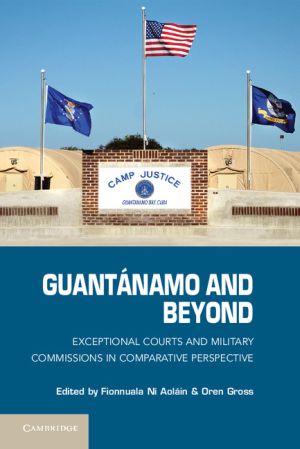 ISBN13: 9781107009219
Published: November 2013
Publisher: Cambridge University Press
Country of Publication: UK
Format: Hardback
Price: £73.00

Despatched in 7 to 9 days.
Part I. Military Commissions and Exceptional Courts in the United States: ; 1. The development of an exceptional court: the history of the American military commission David Glazier; 2. Military commissions in historical perspective: lessons from the U.S. - Dakota war trials Carol Chomsky; 3. Contemporary law of war and military commissions Gary Solis; 4. Military commissions and the paradigm of prevention David Cole; 5. Prevention, detention, and extraordinariness Fiona de Londras; 6. In defense of federal criminal courts for terrorism cases in the United States Gabor Rona and Raha Wala; 7. Exceptional courts and the structure of American military justice Stephen I. Vladeck; 8. Exceptional courts in counterterrorism: lessons from the foreign intelligence surveillance act (FISA) William C. Banks;
Part II. Exceptional Courts and Military Commissions Elsewhere: ; 9. The law working itself pure? The Canadian experience with exceptional courts and Guantanamo Kent Roach; 10. Vicious and virtuous cycles in prosecuting terrorism: the Diplock Court experience John Jackson; 11. Terrorism prosecution in the United Kingdom: lessons in the manipulation of criminalization and due process Clive Walker; 12. Trying terrorists: the Israeli perspective Emmanuel Gross; 13. Exceptional or not? An examination of India's special courts in the national security context Jayanth Krishnan and Viplav Sharma;
Part III. International Law, Exceptional Courts and Military Commissions: ; 14. The right to a fair trial in an extraordinary court David Weissbrodt and Joseph Hansen; 15. Approaches and responses of the UN human rights mechanisms to exceptional courts and military commissions Alex Conte; 16. Exceptional Courts and the European Convention on Human Rights Steven Greer; 17. The legitimacy deficit of exceptional international criminal jurisdiction Yuval Shany.