Inside Lawyers' Ethics 2nd ed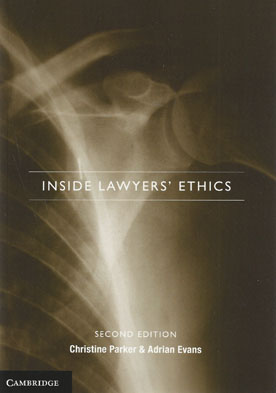 ISBN13: 9781107641730
Published: February 2014
Publisher: Cambridge University Press
Country of Publication: Australia
Format: Paperback
Price: Out of print

Inside Lawyers' Ethics is a lively and practical values-based analysis of the moral dilemmas that lawyers face. It gives lawyers the confidence to understand and actively improve their ethical priorities and behaviour when confronted with major ethical challenges.
It identifies the applicable law and conduct rules and analyses them in the context of four different types of ethical lawyering: zealous advocacy, responsible lawyering, moral activism and the ethics of care.
This new edition is fully updated, with a new chapter on confidentiality, and new case studies and review questions. This edition also contains a self-assessment instrument designed to allow readers to recognise the type of lawyering that most appeals to them.
Inside Lawyers' Ethics promotes self-awareness, and offers a positive and enriching approach to problem solving, rather than one based on the 'don't get caught' principle. It is essential reading for students of law and newly qualified legal practitioners.