Inside Lawyers' Ethics 3rd ed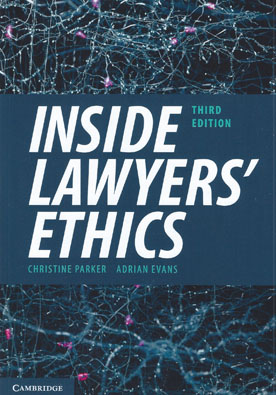 ISBN13: 9781316642009
Published: September 2018
Publisher: Cambridge University Press
Country of Publication: UK
Format: Paperback
Price: £64.99

The third edition of Inside Lawyers' Ethics offers an engaging and practical examination of the moral and ethical dilemmas that legal professionals may encounter in a rapidly changing professional environment.
The text provides comprehensive coverage and analysis of general philosophical approaches to morality as well as the legal frameworks which govern ethical decision-making and practice.
This new edition has been thoroughly updated and provides in-depth coverage of the Australian Solicitors' Conduct Rules (ASCR) to enable readers to successfully understand, analyse and apply guiding ethical frameworks.
Case studies and discussion questions in each chapter provide practical examples from case law, legal practice and research to illustrate common challenges and explain how ethical and moral principles can be applied to a variety of common scenarios. Written by leading academics in the field, this essential text equips readers with the skills to enact ethical behaviours and confidently confront common ethical challenges in their everyday practice.