French Legal System 2nd ed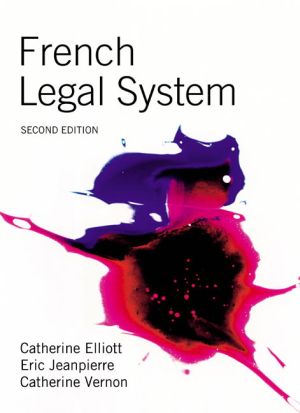 ISBN13: 9781405811613
ISBN: 1405811617
Published: July 2006
Publisher: Pearson Education Ltd
Country of Publication: UK
Format: Paperback
Price: Out of print

This book provides a topical and highly readable introduction in English to the French legal system, covering all of the key aspects in an accessible manner. "French Legal System" explains the sources of French law, the structure of the courts and professions, and the characteristics of the legal process. It provides an essential foundation for the study of more specific and substantive areas of French law.
Key features include: covers the core areas taught at the beginning of courses on French law, therefore giving students a good grounding in the essentials prior to further study; brings the key issues to life by including material from the political arena showing how the system works in practice; and includes chapters on academic and professional law studies in France, and practical illustrations of how to structure essays and exercises, invaluable for students on Erasmus and exchange programmes.
Changes to the new edition include: inclusion of more diagrams, allowing students to visualise and learn the key concepts and structures; internet links and a bibliography at the end of each chapter will enable students to research relevant material and expand their reading; a companion website will provide regular updates on changes in the law that affect the book, a glossary of key terms and weblinks; discussion of the new Commercial Code, explaining why there was a need for a new code; and the new Criminal Justice Act, which has reinforced the presumption of innocence and made major changes to the right to appeal in criminal cases, with the introduction of a new appellate Cour d'assises.
It also includes: an analysis of the new court of first instance - le juge de proximite; discussion of the important legal consequences of the reduction of the presidential term from 7 to 5 years; the reforms made to the French university system in order to obtain a European unified university system; the changes that the legal profession is currently undergoing to fight increasing competition from foreign law firms; the introduction of plea-bargaining in France; and the consequences of the recent political scandals, with possible changes to the principle of immunity.