Court Number One: The Old Bailey Trials that Defined Modern Britain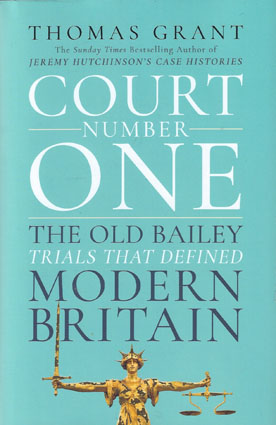 ISBN13: 9781473651616
Published: May 2019
Publisher: John Murray
Country of Publication: UK
Format: Hardback
Price: £25.00

Usually despatched in 1 to 3 weeks.
A hamper of treats, a series of beautifully judged vignettes ... Grant excels himself ... He is a master at conveying the cut-and-thrust of cross-examination, managing to maintain a sense of speed while making sure the reader does not miss the cultural or legal context.

His style is drily witty, but just when you start to think he is a bit too detached from what are, after all, matters of life and death, he soars into a rhetorical flight ... Very moving Sunday Telegraph

The Old Bailey might be a Jacobean theatre, at times. But like this deceptively thrilling book, it also stands for something very serious Sunday Times
Court Number One of the Old Bailey is the most famous court room in the world, and the venue of the some of the most sensational human dramas ever to be played out in a criminal trial.
The principal criminal court of England, historically reserved for the most serious and high-profile trials, Court Number One opened its doors in 1907 after the building of the 'new' Old Bailey. In the decades that followed it witnessed the trials of the most famous and infamous defendants of the twentieth century.
It was here that the likes of Madame Fahmy, Lord Haw Haw, John Christie, Ruth Ellis, George Blake (and his unlikely jailbreakers, Michael Randle and Pat Pottle), Jeremy Thorpe and Ian Huntley were defined in history, alongside a wide assortment of other traitors, lovers, politicians, psychopaths, spies, con men and - of course - the innocent.
Not only notorious for its murder trials, Court Number One recorded the changing face of modern British society, bearing witness to changing attitudes to homosexuality, the death penalty, freedom of expression, insanity and the psychology of violence.
Telling the stories of twelve of the most scandalous and celebrated cases across a radically shifting century, this book traces the changing face of Britain, the decline of a society built on deference and discretion, the tensions brought by a more permissive society and the rise of trial by mass media.
From the Sunday Times bestselling author of Jeremy Hutchinson's Case Histories, Court Number One is a mesmerising window onto the thrills, fears and foibles of the modern age.