A User's Guide to Data Protection: Law and Policy 3rd ed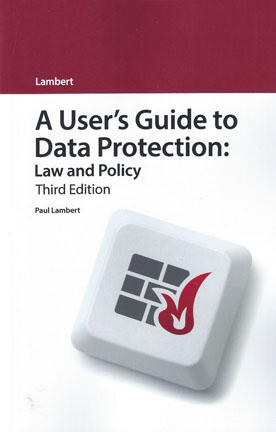 ISBN13: 9781526504999
Published: October 2018
Publisher: Bloomsbury Professional
Country of Publication: UK
Format: Paperback
Price: £120.00

Data Protection is a minefield of complex rules and regulations. It is an area of law that impacts on every organisation, large or small, that handles personal data.
A User's Guide to Data Protection: Law and Policy, Third Edition sets out all the compliance issues that organisations need to be aware of in order to successfully comply with UK data protection rules and regulations, along with a full assessment of the EU Data Protection Regulations and their impact on UK practice.
The work is a first port of call text providing clear guidance through the complex web of data protection issues and regulation in relation to both internal issues affecting employees, agents, contractors etc as well as external issues concerning customers, prospective customers and users across all areas of data interface.
The third edition has been fully updated and includes coverage and analysis of:
the General Data Protection Regulations (GDPR) or GDPR equivalent law which is to be implemented by May 2018
coverage of the new UK Data Protection Bill
latest Information Commissioner Office investigations, reports and guidance
latest Information Commissioner Office cases, complaint decisions and penalties
Brexit negotiation issue points
the post Brexit data protection implications
significant increased fines and penalties regime; and data protection competition law comparisons
Right to be Forgotten updates and new cases
the Conservative election proposals for the Right to be Forgotten
international developments and issues, Cloud, internet, revenge porn, online abuse
new security law update
new data protection ecommerce and electronic communications data protection law update