Summary Judgment in Ireland: Principles and Defences 2nd ed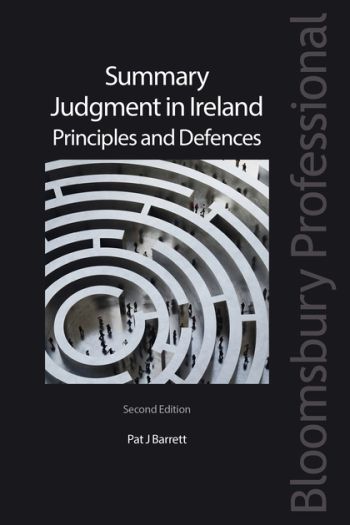 ISBN13: 9781526506566
To be Published: October 2020
Publisher: Bloomsbury Professional (Ireland)
Country of Publication: Ireland
Format: Paperback
Price: £150.00

Summary judgment is the judgment which may be given where the plaintiff's claim in a Circuit Court civil bill is for: a debt or liquidated demand in money; for the delivery or specific good in an action for detinue; for the enforcement, performance or carrying out of a trust; or for ejectment, with our with out a claim for rent or mesne profits. The plaintiff may apply to the court for summery judgment where the defendant has entered an appearance or has delivered a defence.
This book enables practitioners to research the current principles guiding the court's jurisdiction in this area and to identify defences which they might employ to defeat applications for summary judgment.
This second edition looks into the compatibility of summary judgment procedure with the ECHR; the unfair terms in the Consumer Contract Directive and its impact for summary judgment applications and the enforcement of solicitors' undertakings in applications for summary judgment.