Cornerstone on Anti-Social Behaviour 2nd ed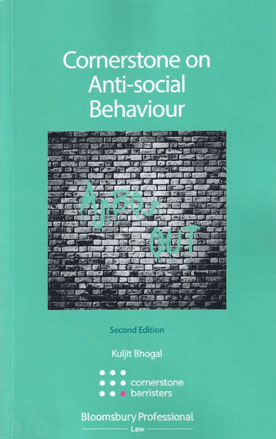 ISBN13: 9781526508645
Published: April 2019
Publisher: Bloomsbury Professional
Country of Publication: UK
Format: Paperback
Price: £80.00

The Anti-Social Behaviour, Crime and Policing Act 2014, introduced some radical changes to how local bodies now deal with anti-social behaviour, streamlining the tools available to them so that they could be more effective.
With the introduction of this legislation, victims of anti-social behaviour also now have tools to enable them to insist on a response to a problem where nothing seems to have been done.
The Anti-Social Behaviour, Crime and Policing Act 2014 sets out the following six tools which came into use from October 2014:
1. Injunction
2. Criminal Behaviour Order
3. Dispersal Powers
4. Community Protection Notices and Orders
5. Public Spaces Protection Order
6. Closure of Premises

In December 2017 revised statutory guidance on the use of anti-social behaviour powers to help police and councils continue to take appropriate action against nuisance behaviours whilst ensuring the most vulnerable, including the homeless, are not disproportionately targeted was published. The guidance was introduced following feedback from charities and other groups who raised concerns that the orders were being used to disproportionately target certain groups, for example, the homeless, rather than focusing on behaviour that is genuinely anti-social and causing others distress or alarm.
Since the guidance was revised, there has been confusion within local authorities as to what the changes are, how their powers and orders should be adapted to comply with the new guidance.
Fully updated and providing analysis of the revised guidance with commentary explaining what the changes are and what they mean for those working in this area, the second edition of Cornerstone on Anti-social Behaviour remains the first port of call for every one working in the area of, and carrying out ASB work.