Rustad's Global Internet Law 2nd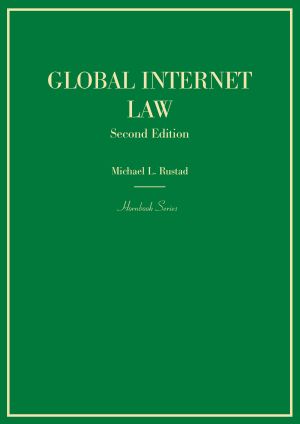 ISBN13: 9781634596855
Published: February 2016
Publisher: West Academic Publishing
Country of Publication: USA
Format: Hardback
Price: £134.00

Usually despatched in 1 to 3 weeks.
Global Internet Law Hornbook provides students, practitioners, judges, and policymakers with a comprehensive examination of the most important concepts and methods of this rapidly evolving field of law. Each chapter is a detailed examination of cases, statutes, industry standards, norms, as well as, academic commentaries from around the world. While the emphasis is on U.S. developments, each chapter compares U.S. to EU regulations, directives, and conventions, as well as, other cross-border Internet law developments from diverse legal systems around the world.
This timely and up-to-date Hornbook comprehensively examines Internet technologies, Internet governance, private international law (jurisdiction, choice of law, forum selection and enforcement of judgment), online contacts (mass market, cloud computing service level agreements, social media terms of use software licensing, and e-commerce terms of service),global consumer protection in cyberspace (FTC, state and foreign developments), cybertorts (including CDA Section 230 developments, Internet security, information torts, and negligent enablement), Internet-related privacy (including the EU Data Directive) cybercrimes (including state, federal and international developments), privacy (including extensive coverage of the Data Protection Directive and the General Data Protection Regulation) content regulations (U.S. vs. foreign), copyrights in cyberspace, trademarks and domain names, Internet-related trade secrets and patent law developments. Global Internet law is increasingly important for all lawyers, whether they are policymakers, transactional lawyers, or litigators.
This Hornbook is organized around the major issues in each substantive and procedural area of law in the most accessible, contemporary, and effective manner. To help readers come to grips with the necessity of approaching the subject from a transnational perspective, this book surveys the best available U.S. and foreign cases, statutes, and commentaries covering global Internet Law developments.