Aboriginal Customary Law: A Source of Common Law Title to Land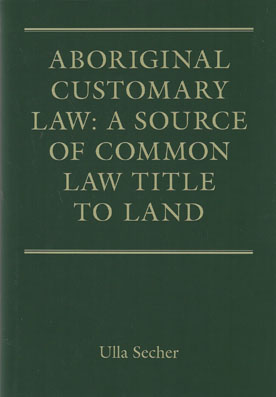 ISBN13: 9781849465533
Published: March 2014
Publisher: Hart Publishing
Country of Publication: UK
Format: Hardback
Price: £100.00

Despatched in 4 to 6 days.
Described as "ground-breaking" in Kent McNeil's Foreword, this book develops an alternative approach to conventional Aboriginal title doctrine. It explains that Aboriginal customary law can be a source of common law title to land in former British colonies, whether they were acquired by settlement or by conquest or cession from another colonising power.
The doctrine of Common Law Aboriginal Customary Title provides a coherent approach to the source, content, proof and protection of Aboriginal land rights which overcomes problems arising from the law as currently understood and leads to more just results. The doctrine's applicability in Australia, Canada and South Africa is specifically demonstrated.
While the jurisprudential underpinnings for the doctrine are consistent with fundamental common law principles, the author explains that the Australian High Court's decision in Mabo provides a broader basis for the doctrine: a broader basis which is consistent with a re-evaluation of case-law from former British colonies in Africa, as well as from the United States, New Zealand and Canada.
In this context, the book proffers a reconceptualisation of the Crown's title to land in former colonies and a reassessment of conventional doctrines, including the doctrine of tenure and the doctrine of continuity.