Dictionary of Financial Remedies 2019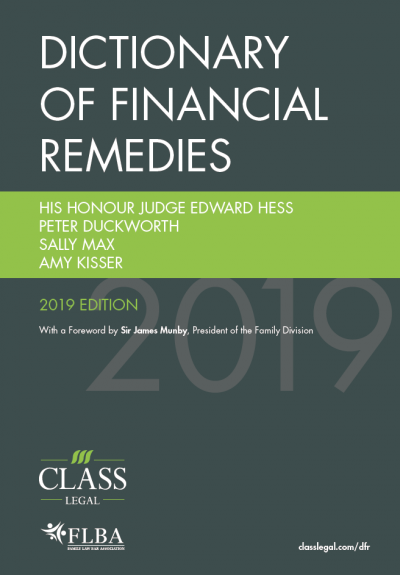 ISBN13: 9781859598061
Published: April 2019
Publisher: Class Legal
Country of Publication: UK
Format: Paperback, A4
Price: Out of print

Presented in an easy to use A-Z format, with cross-references where required, each entry acts like a practice note on the topic setting out the essential law, key cases and practice points you need to be able to advise on the issue with the minimum of fuss.
The book distils the combined experience of the Editors whose aim is to provide a concise, practical handbook that focuses on the most important issues and practice points, covering everything from agreements to variation of settlements.
The 2019 edition has been fully revised with the key cases from 2018 and all entries have been reviewed or rewritten by the eminent editorial team to reflect the latest law and practice. In particular coverage of jurisdiction has been enhanced and expanded. There is also a new Foreword written by the Senior Financial Remedies Judge, Mr Justice Mostyn.
I am honoured to be following St James Munby in writing the foreword to this excellent book. I agree with him that it is a useful complement to At A Glance covering many aspects of substantive law as opposed to the largely numeric and procedural focus of its companion.
Indeed, priding myself on what I believe to be a near encyclopaedic knowledge of substantive financial remedy law I was surprised on reading the proofs how time and again I encountered material hitherto unknown to, or forgotten by, me.
Who would find this book useful?
Every family law solicitor, barrister or legal executive advising clients on financial provision after separation
Mediators and other professionals involved in out of court dispute resolution
Expert witnesses, financial planners and pensions advisers working on financial remedy cases
McKenzie Friends & litigants in person