Foreign Investor Misconduct in International Investment Law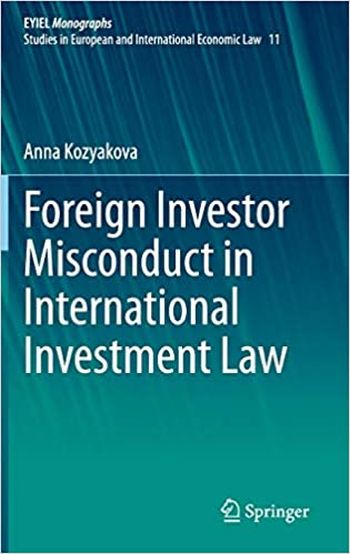 ISBN13: 9783030548544
Published: November 2020
Publisher: Springer-Verlag
Country of Publication: UK
Format: Hardback
Price: £109.99

Usually despatched in 1 to 3 weeks.
This book examines the issue of foreign investor misconduct in modern international investment law, focusing on the approach that international investment law as it currently operates has developed towards foreign investor misconduct.
The term 'misconduct' is not a legal notion, but is used to describe a certain phenomenon, namely, a group/class of actions. This term is convenient since it makes it possible to introduce and describe the phenomenon as such, without a division into concrete types of conduct, like 'abuse of process', 'violation of national law', 'corruption', 'investment contrary to international norms and standards', etc. The term 'misconduct' is intended to embrace various kinds of conduct on the part of foreign investors that the system of international investment law does not accept – such as that which it regards as illegal, against public policy, or otherwise inappropriate – and triggers legal consequences.
Rarely, however, does international investment law clearly articulate what it considers unacceptable investor conduct, and certainly not in any systematic fashion. As such, this book addresses the following questions: What types of investors' conduct are legally unacceptable? What mechanisms are available to deal with unacceptable investors' conduct, and what are the legal consequences?