Domestic Application of the ECHR: Courts as Faithful Trustees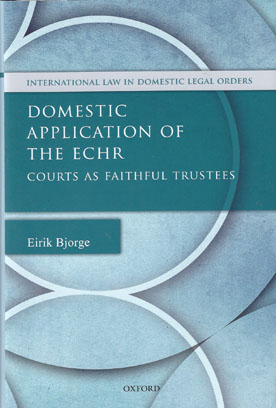 ISBN13: 9780198743637
Published: October 2015
Publisher: Oxford University Press
Country of Publication: UK
Format: Hardback
Price: £105.00

Despatched in 3 to 5 days.
Domestic courts are entrusted with the application of the European Convention on Human Rights, as faithful trustees of the rights protected in the Convention. Their relationship with the European Court of Human Right is defined by their application of the ECHR. Through analysis of the way in which domestic courts in the United Kingdom, France, and Germany apply the Convention, this book considers domestic application of the Convention to be in good faith, contrary to what others have contended.
Arguing that it is not true in descriptive terms, nor desirable in normative terms, that the domestic courts take an approach to the ECHR based upon friction and assertion of sovereignty vis-a-vis the European Court. The proper role played by the domestic courts, and the one which they have taken on them to perform is in fact one in which they apply the Convention in all good faith building on the principles set out in the European Court's jurisprudence. Domestic Applications of the ECHR: Courts as Faithful Trustees shows that through their faithful application of the Convention by domestic courts can make a positive contribution to the development of the law of the Convention.