Prospectus Regulation and Prospectus Liability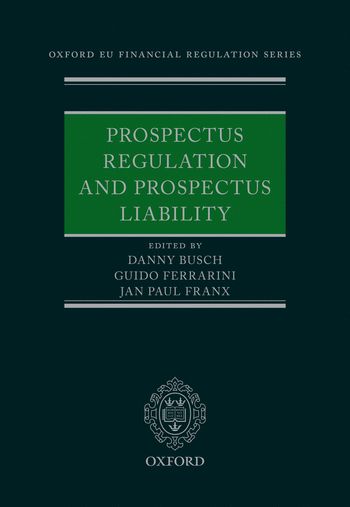 ISBN13: 9780198846529
Published: March 2020
Publisher: Oxford University Press
Country of Publication: UK
Format: Hardback
Price: £195.00

This new work provides integrated analysis of and guidance on the Prospectus Regulation 2017, civil liability for a misleading prospectus, and securities litigation in a European context. The prospectus rules are one of the cornerstones of the EU Capital Markets Union and analysis of this aspect of harmonisation, the areas not covered by the rules, and the impact of Brexit, provides valuable reference for all advising and researching this field.
The first section serves as an introduction to the volume with relevant context. Part two discusses the subjects of Prospectus Regulation from both a legal and economic perspective. Each chapter within part two focuses on a key subject of the new Prospectus Regulation, providing an in-depth analysis of each issue.
Part III of the work explains the domestic law on liability for a misleading prospectus, this issue being omitted from the Regulation. The law and practice in each of the key capital markets centres in Europe is analysed and compared, with the UK chapter covering the issues and possible solutions under Brexit. In the chapter on securities litigation there is full consideration of conflicts of laws issues with reference to the Brussels I regulation, and the Rome I and II Regulations.
The fifth and final section looks to the future of disclosure practices in connection with securities offerings in the EU. The editors evaluate their key findings in a succinct summary to inform and enlighten the reader.