Complete Tort Law: Text, Cases and Materials 2nd ed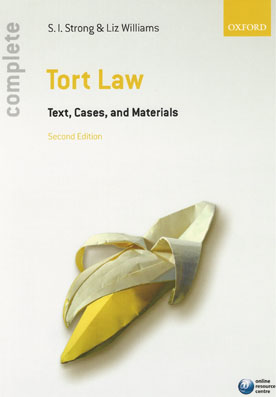 ISBN13: 9780199573622
Published: March 2011
Publisher: Oxford University Press
Country of Publication: UK
Format: Paperback
Price: £35.99

Tort Law Text, Cases and Materials is an essential introductory resource for undergraduate law students undertaking modules in Tort Law for the first time.
Combining, clear explanatory text with extracts from a wide range of primary materials alongside practical learning features, this text occupies a unique position within the tort law market as the only Text, Cases and Materials title written for law students at an introductory level.
Cases play a pivotal role in shaping tort law, so it's important to read first-hand reports in order to fully understand the subject. One of the benefits of this text, cases and materials book is the inclusion of judicial opinions and statutes, which are reproduced as they originally appear helping students to become familiar with the materials that they will be working with throughout their law degree and in their future careers. Now in its second edition the text has been updated to include recent case materials which bring the subject to life and provide contemporary relevance for law students.
A variety of pedagogical features run throughout the text encouraging students to engage in more depth with the subject matter and think critically about complex issues that arise in Tort Law. Think points, exercises, tips, examples, and revision tasks provide plenty of learning support for students whilst key concepts are highlighted for emphasis, and cross-references and comparisons are pointed out to link the various elements of tort law together.
An attractive two-colour page design distinguishes between author text and extracted materials so the book is easy to use and navigate through.
The title is also accompanied by online resources offering an extensive range of additional features designed to support the text and further support students with their studies.