Principles of Australian Equity and Trusts 3rd ed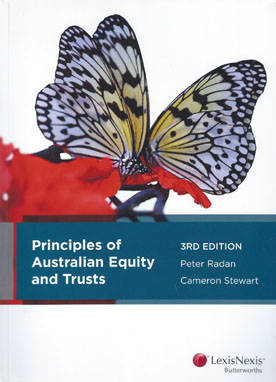 ISBN13: 9780409340433
Published: October 2015
Publisher: LexisNexis Australia
Country of Publication: Australia
Format: Paperback
Price: Out of print

Principles of Australian Equity and Trusts provides an approachable and well-structured account of the principles and rules of equity and trusts.
The book is designed to equip students with the skills to analyse fact situations and correctly identify the relevant principles of the law of equity and trusts applicable to the resolution of problems. The clear and accessible style of the authors makes this an ideal text for students new to the study of equity and trusts.
The third edition of has been fully revised and updated to include recent developments in case law, including:
Sidhu v Van Dyke (2014) 251 CLR 505
Howard v Commissioner of Taxation (2014) 253 CLR 83
Kakavas v Crown Melbourne Ltd (2013) 250 CLR 392
Pitt v Holt [2013] 2 AC 108
FHR European Ventures LLP v Cedar Capital Partners LLC [2015] AC 250
Gerace v Auzhair Supplies Pty Ltd (in liq) (2014) 87 NSWLR 435
The contents have been restructured for ease of navigation, with nine new chapters added.
The text is suitable for standalone use or with the companion casebook Radan, Stewart & Vickovich, Principles of Australian Equity and Trusts: Cases & Materials. The third editions of the textbook and casebook follow the same chapter order and structure and plentiful cross-referencing makes it easy to use the books in tandem.