The Role of Circuit Courts in the Formation of United States Law in the Early Republic: Following Supreme Court Justices Washington, Livingston, Story and Thompson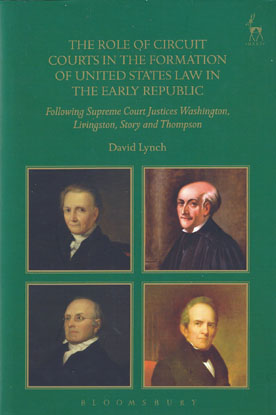 ISBN13: 9781509910854
Published: February 2018
Publisher: Hart Publishing
Country of Publication: UK
Format: Hardback
Price: £70.00

While scholars have rightly focussed on the importance of the landmark opinions of the United States Supreme Court and its Chief Justice, John Marshall, in the rise in influence of the Court in the Early Republic, the crucial role of the circuit courts in the development of a uniform system of federal law across the nation has largely been ignored.
This book highlights the contribution of four Associate Justices (Washington, Livingston, Story andThompson) as presiding judges of their respective circuit courts during the Marshall era in order to establish that in those early years federal law grew from the 'inferior courts' upwards rather than down from the Supreme Court.
It does so after a reading of over 1,800 mainly circuit opinions and over 2,000 original letters which reveal the sources of law upon which the justices drew and their efforts through correspondence to achieve consistency across the circuits.
The documents examined present insights into momentous social, political, and economic issues facing the Union and how these justices dealt with them on circuit. Particular attention is paid to the different ways in which each justice contributed to the shaping of United States law on circuit and on the Court and in the case of Justices Livingston and Thompson also during their time on the New York State Supreme Court.