The China-Australia Free Trade Agreement: A 21st-Century Model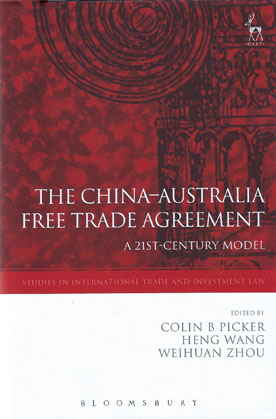 ISBN13: 9781509915385
Published: December 2017
Publisher: Hart Publishing
Country of Publication: UK
Format: Hardback
Price: £95.00

Despatched in 6 to 8 days.
This book provides readers with a unique opportunity to learn about one of the new regional trade agreements (RTAs), the China-Australia Free Trade Agreement (ChAFTA), that is on the forefront of the field - and is now operational.
This new agreement, which only came into operation in December 2015, reflects much of the most modern and up to date approaches within the international economic legal order that must exist within a very different environment than when the World Trade Organization (WTO) was created in the late eighties and early nineties.
The book's contributors, all foremost experts in their fields in the region, explore the inclusion in the ChAFTA of many traditional trade agreement features showing their continuing relevance in modern contexts. But the book also explores many new features that were not present when the WTO or early RTAs were negotiated, providing insights and lessons about those new or more important trade issues for the twenty-first century, such as the latest approaches to the regulation of investment, twenty-first century services and the emerging digital/knowledge economy.