Archbold: Criminal Pleading, Evidence and Practice 2021 Book & CD-ROM Pack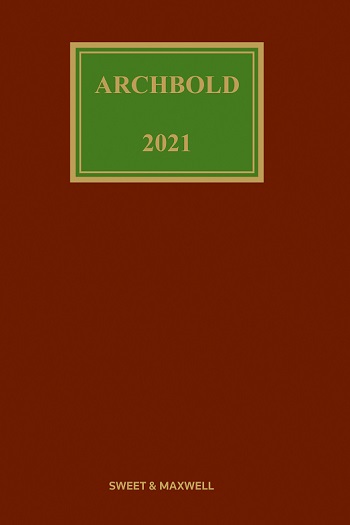 ISBN13: 9780414080713
Published: October 2020
Publisher: Sweet & Maxwell Ltd
Country of Publication: UK
Format: Hardback & CD-ROM & 3 Supplements
Price: Out of print

The 2021 edition of Archbold: Criminal Pleading, Evidence & Practice, the leading criminal court book for the Crown Court, will publish in October.
SAME PRICE AS LAST YEAR
The price of Archbold continues to be frozen at £395, with no increase on last year's price. This price is the same for both print or eBook formats and includes the Sentencing Code Special Supplement, the Sentencing Guidelines Supplement and all updating supplements.
EDITORIAL TEAM
Archbold continues to expand and strengthen its expert author team: we welcome Nicola Talbot Hadley to the team and congratulate HHJ Mark Lucraft QC on his appointment as Recorder of London, The Hon Mr Justice Hilliard on his elevation to the High Court Bench and the appointment of Allison Clare as Queen's Counsel.
SENTENCING CODE
In advance of the proposed Sentencing Code coming into force, the 2021 edition of Archbold includes a separate special supplement with a fully revised version of Chapter 5A on Sentences & Orders on Conviction. Chapter 5A on Sentences & Orders on Conviction (pre-Sentencing Code) is published in the Main Work. The new version of Chapter 5A in the separate special supplement has been comprehensively updated for the Sentencing Code, reproducing all the relevant material and explaining in detail how previous decisions apply to the new law.
REVISED, RESTRUCTURED AND UPDATED CONTENT
The Archbold team has continued to work tirelessly to produce a revised and improved text, based on in-depth feedback received from its readership. On a rolling basis content has been rewritten and restructured and layout improvements implemented. The 2021 edition continues this work with Chapter 6 on Costs being completely revised so that the subject is dealt with thematically to make it less repetitive and easier to follow. Surplus legislation has been summarised or removed and a new Appendix F in the Supplement has been created which includes the Practice Direction (Costs in Criminal Proceedings) (2015); the Costs in Criminal Cases (General) Regulations 1986 (SI 1986/1335) and the Powers of Criminal Courts (Sentencing) Act 2000 (ss.141, 142).
Chapter 8 (renamed 'Witnesses') has been revised to cut down on large commentaries and descriptions of legislation to make it more streamlined. Commentary on measures to assist the vulnerable has been added.
Chapter 15 has been split into two (15A and 15B) so that Investigatory Powers and Confessions and Exclusion of Evidence are in separate sections to make the content less unwieldy and easier to navigate.
Chapter 25 (Terrorism & Other Offences against the Crown and Government) has been further edited to focus on legislation of practical use and a short new section on the early release of terrorist prisoners (Terrorist Offenders (Restriction on Early Release) Act 2020) has been added.
Chapter 13's title has been updated to include 'Rehabilitation of Offenders' to make that section more prominent, and Chapter 31's heading is revised to 'Offences relating to Marriage, Public Nuisance, and Obscene or Indecent Publications'.
Legislation has been amended in respect of the Coronavirus Act and the Criminal Procedure Rules 2020 and updated in relation to further Brexit amendments. With regard to the proposed Sentencing Code, aside from the separate version of Chapter 5A on Sentencing, legislative amendment notes in other chapters have been updated to reflect the position at the time of going to press when the Sentencing Bill had not yet been enacted.