Archbold: Criminal Pleading, Evidence and Practice 2022 (Book & eBook Pack)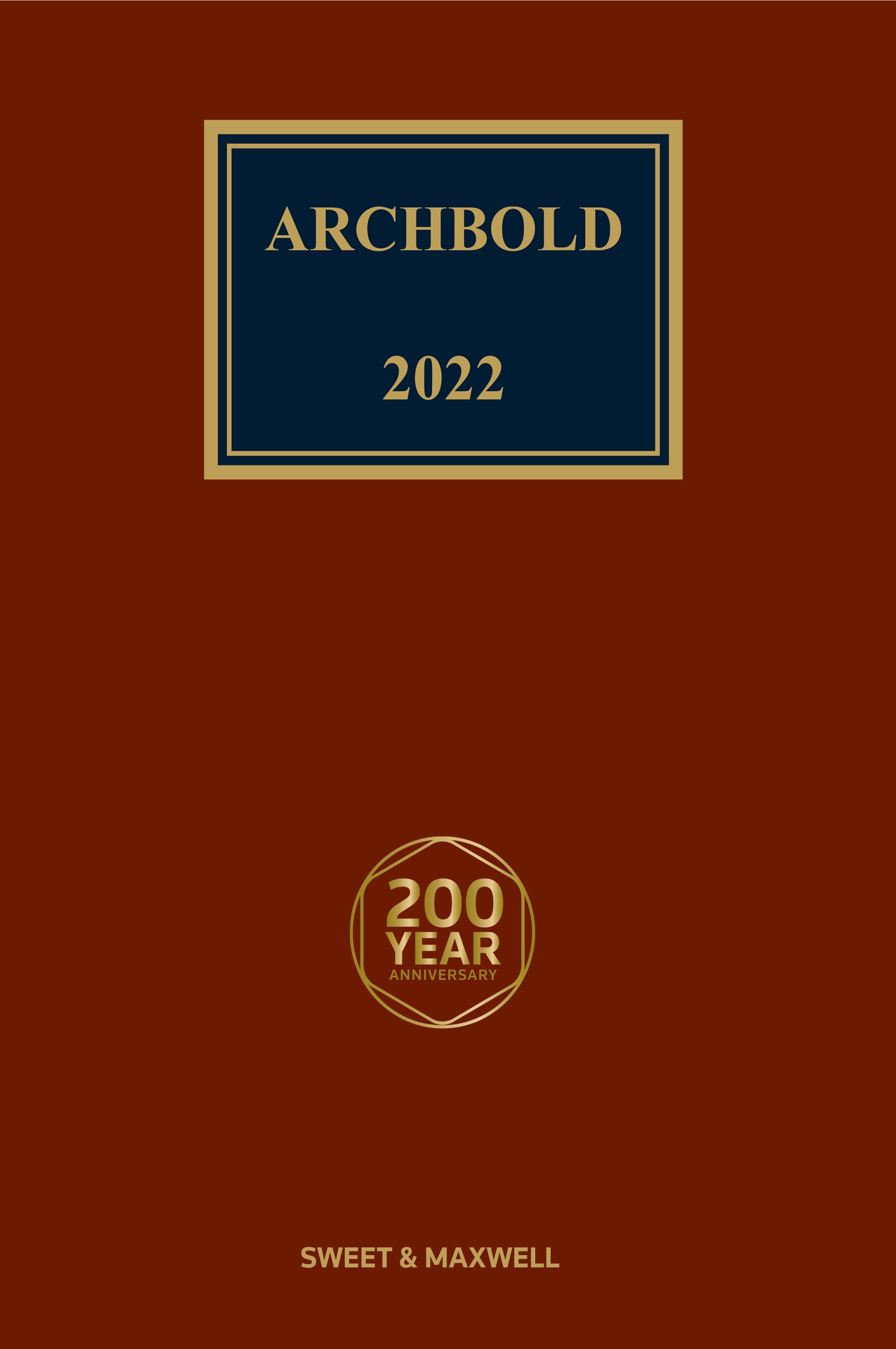 ISBN13: 9780414100459
Published: October 2021
Publisher: Sweet & Maxwell Ltd
Country of Publication: UK
Format: Book & eBook Pack (ProView)
Price: Out of print
The amount of VAT charged may change depending on your location of use.
The sale of some eBooks are restricted to certain countries. To alert you to such restrictions, please select the country of the billing address of your credit or debit card you wish to use for payment.
Sale allowed in
Anguilla
,
Antigua and Barbuda
,
Aruba
,
Austria
,
Bahamas
,
Barbados
,
Belgium
,
Bermuda
,
Bulgaria
,
Cayman Islands
,
Croatia
,
Cuba
,
Cyprus
,
Czech Republic
,
Denmark
,
Dominica
,
Dominican Republic
,
Finland
,
France
,
Germany
,
Gibraltar
,
Greece
,
Grenada
,
Guadeloupe
,
Guernsey
,
Guyana
,
Haiti
,
Hungary
,
Ireland
,
Italy
,
Jamaica
,
Jersey
,
Latvia
,
Liechtenstein
,
Lithuania
,
Luxembourg
,
Malta
,
Martinique
,
Montserrat
,
Netherlands
,
Poland
,
Portugal
,
Puerto Rico
,
Romania
,
Saint Kitts and Nevis
,
Saint Lucia
,
Saint Vincent and the Grenadines
,
Slovakia
,
Slovenia
,
Spain
,
Sweden
,
Trinidad and Tobago
,
Turks and Caicos Islands
,
United Kingdom
,
Virgin Islands (British)
,
Virgin Islands (U.S.)
Sorry, due to territorial restrictions applied by the publisher we are unable to supply this eBook to United States.
The 2022 edition of Archbold: Criminal Pleading, Evidence & Practice, the leading criminal court book for the Crown Court, will publish in October.
2022 is a special year for Archbold as it marks the 200th anniversary since the first edition published in 1822. The aim of the work remains as originally set out: to capture the essential materials for the criminal law practitioner, and, as Archbold himself intended, to be a 'practically useful book'.
Archbold 2022 continues the ethos of being an invaluable aid to practising criminal law in the Crown Court and being reliable, current and comprehensive. The new edition is as up-to-date and authoritative as ever: following on from the bringing into force of the Sentencing Code in 2020, we have brought into the Main Work the separate version of Chapter 5A on Sentences and Orders on Conviction, which now fully replaces the pre-Code version we published last year.
Archbold has been brought fully up-to-date with the latest legislation and case law, including the Counter-Terrorism and Sentencing Act 2021 and the Domestic Abuse Act 2021, as well as more niche pieces of criminal legislation including the Covert Human Intelligence Sources (Criminal Conduct) Act 2021 and the Prisoners (Disclosure of Information about Victims) Act 2020.
Significant case law decisions include DPP v Ziegler [2021] UKSC 23 and R. (KBR Inc) v Director of the SFO [2021] UKSC 2 and a raft of Court of Appeal and High Court judgments ranging from R. (DPP) v Crown Court at Woolwich and Lucima v Central Criminal Court on custody time limits to Hamilton v Post Office Ltd on appeals and determination of grounds and Shaikh; Abdullah and McWilliams on life sentences and minimum terms.
The remainder of 2021 and 2022 promise to be as busy as ever, with the Police, Crime, Sentencing and Courts Bill on the horizon, as well as changes made to criminal procedure by the Judicial Review and Courts Bill – the Archbold e-update will keep you fully informed on any changes on a weekly basis as they happen.
All legislation and case law has been fully revised and updated.
SAME PRICE AS LAST YEAR
The price of Archbold continues to be frozen at £395, with no increase on last year's price. This price is the same for both print or eBook formats and includes the Sentencing Guidelines Supplement, Archbold Review and all updating supplements.
EDITORIAL TEAM
Archbold continues to expand and strengthen its expert author team: we congratulate Lord Justice Haddon-Cave on his appointment as Senior Presiding Judge from 1 October 2021 and Maya Sikand QC and Hannah Willcocks QC on their appointments to silk.