Russian Family Law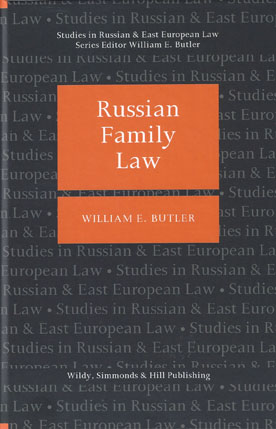 ISBN13: 9780854901623
Published: May 2015
Publisher: Wildy, Simmonds and Hill Publishing
Country of Publication: UK
Format: Hardback
Price: £65.00

The most comprehensive introduction in English to the historical background and contemporary state of Russian family law, with extensive reference to judicial practice in Russian courts and in the European Court of Human Rights involving Russian parties.
A historical introduction to Russian family law is followed by an account of the general provisions on family relations, the sources of Russian family law, the regulation of marriage, divorce, invalidity, personal rights and duties of spouses, marital property (including the marriage contract), rights and duties of parents and children, alimony, adoption, and other variants of caring for children left without parents.
The study closes with a discussion of private international legal aspects of family relations, including the recognition and dissolution of foreign marriages, personal rights and duties of spouses, alimony, adoption, the application of foreign law, and the 1980 Hague Abduction Convention. The full text of the Family Code is appended in the author's translation.
This is not a update of the 1998 book also called Russian Family Law, and published by Wildy Simmonds and Hill, but a completely new book hence it is the first edition.