A Practitioner's Guide to Inheritance Act Claims 3rd ed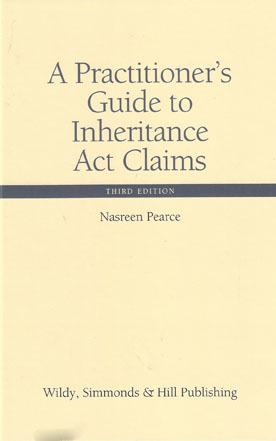 ISBN13: 9780854902224
Published: August 2017
Publisher: Wildy, Simmonds and Hill Publishing
Country of Publication: UK
Format: Hardcover
Price: Out of print

A Practitioner's Guide to Inheritance Act Claims (previously Inheritance Act Claims) provides a clear, comprehensive, easily accessible and practical guide to the provisions of the Inheritance (Provision for Family and Dependants) Act 1975 as amended.
This book sets out in detail the background to the legislation, pre-conditions and time limits for making a claim, categories of those who are entitled to make a claim, and grounds on which a claim may be made. It looks at the matters to which the court must have regard in deciding a claim and the court's powers to make orders (including the powers of the court in respect of dispositions intended to defeat a claim), the assets out of which financial provision under the Act may be made and the position of personal representatives and trustees.
The new edition includes coverage of the important case of Ilott v The Blue Cross and others and looks at the effect of the Supreme Court's first decision under the Act on the meaning of reasonable financial provisions, testamentary freedom, the position of charities as beneficiaries, the factors that are relevant to the exercise of judicial discretion when deciding what if any award should be made for a claimant and issues relating to grounds of appeal.
This new edition also deals with changes brought about by the Civil Partnership Act 2004; the Marriage (Same Sex Couples) Act 2013; the Presumption of Deaths Act 2013; the Inheritance and Trustees' Powers Act 2014 and the consequential amendments made to the Civil Procedure Rules Part 57 and the Human Fertilisation and Embryology Act 2008.
Other matters covered in the book include: