The UK Supreme Court Yearbook Volume 8: 2016-2017 Legal Year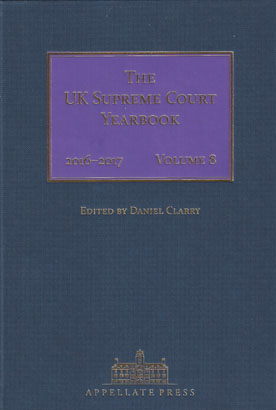 ISBN13: 9781911250166
Published: February 2018
Publisher: Appellate Press
Country of Publication: UK
Format: Hardback
Price: £120.00

Customers who purchase the complete reprinted set of Volumes 1-8 of the The UK Supreme Court Yearbook are entitled to receive future Volumes at a reduced rate. Please email Charlie Alpera for further details.
Wildy's Book of the Month: March 2018
The UK Supreme Court Yearbook critically reviews the jurisprudence of the UK Supreme Court each legal year and publishes chapters on a range of institutional and jurisprudential aspects of the Court and its decisions by prominent commentators, including eminent academics, leading barristers (many of whom argue the UKSC cases each year) and judges (including the UKSC Justices and judges from highest appellate courts internationally).
At 684 pages in length, Volume 8 of the Yearbook comprises 44 contributions from 57 authors, including :-
two current Justices of the UK Supreme Court (Lord Mance and Lord Sumption)
and its former President (Lord Neuberger),
one Lord Justice of Appeal (Sir Rupert Jackson),
one Justice of the Caribbean Court of Justice (Justice David Hayton),
one cross-bencher in the House of Lords (Lord Pannick QC),
the Attorney-General of Northern Ireland (John F Larkin QC),
the Lord Advocate (The Rt Hon W James Wolffe QC),
eight eminent professors
and 44 leading barristers, 34 of whom are leading silks (QCs) and most of whom argued cases before the Court in the past legal year.