The UK Supreme Court Yearbook Volume 7: 2015-2016 Legal Year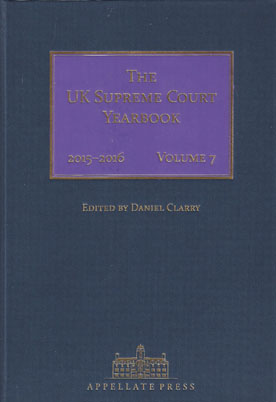 ISBN13: 9781911250227
Published: February 2018
Publisher: Appellate Press
Country of Publication: UK
Format: Hardback
Price: £120.00

Customers who purchase the complete reprinted set of Volumes 1-8 of the The UK Supreme Court Yearbook are entitled to receive future Volumes at a reduced rate. Please email Charlie Alpera for further details.
The UK Supreme Court Yearbook
critically reviews the jurisprudence of the UK Supreme Court in each legal year and publishes articles concerning key institutional and jurisprudential aspects of the Court and its decisions.
At some 520 pages in length,
Volume 7
of the Yearbook comprises 40 contributions from over 50 authors, including:-
three current Justices of the UK Supreme Court (the President, Lord Neuberger; the Deputy President, Lady Hale; and the recently retired Justice, Lord Toulson),
the Chief Justice of the High Court of Australia (Chief Justice French),
a former Attorney General of England & Wales (Dominic Grieve QC MP),
six distinguished professors and an associate professor
and 40 prominent barristers, 33 of whom are leading silks (QCs) and most of whom argued the many important cases before the Court in the past legal year.
Volume 7 also includes an additional piece written by Lord Millett (a former Law Lord) concerning what he believes is the 'real question' in the upcoming appeal to the UK Supreme Court in the important Article 50 ('Brexit') case (
Miller v Secretary of State for Exiting the European Union
), which will be heard in early December 2016 before all 11 of the Justices of the Court, the first time the Court has ever taken such a step.