Owen Dixon: A Biography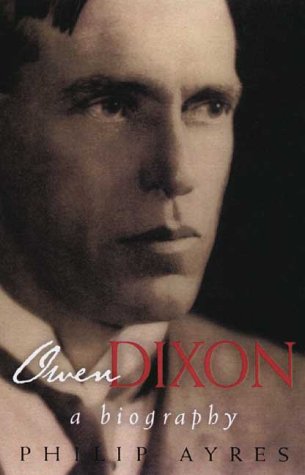 ISBN: 0522580456
Published: July 2003
Publisher: The Miegunyah Press
Country of Publication: Australia
Format: Hardback
Price: Out of print

In twentieth-century Australia, Dixon is a towering figure. He was regarded by Justice Felix Frankfurter of the US Supreme Court, and by Lord Simonds and other English Law Lords, as the greatest exponent of the common law of his generation anywhere in the world.
Dixon sat on the High Court from 1929 to 1964, and was Chief Justice from 1952 to 1964. He was also Minister to Washington (Ambassador) from 1942 to 1944, and a UN-appointed mediator between India and Pakistan over Kashmir from May to September 1950.
Through the use of Dixon's private papers--including his private diaries, never previously published--Philip Ayres gives the text a strong sense of momentum, interiority and continuing drama. He focuses on the most interesting cases, and involves the reader closely in Dixon's numerous trips to England and the USA, his activities in wartime Washington, his tour of the New Guinea fronts in 1943, and the extensive Himalayan travel and exploration involved in his mediation over Kashmir.
A narrative seamlessly integrating both the private and professional figure, Owen Dixon is a most important contribution on events at the commanding heights of politics and law in Australia across much of the twentieth century.