UK Public Holiday 31st August 2015
Please note that Wildy's will be closed on Monday 31st August.

Online orders received during the time we are closed will be processed as soon as possible once we re-open on Tuesday 1st September.

As usual Credit Cards will not be charged until the order is processed and ready to despatch

Any non-UK eBook orders placed after 4pm on the 28th August will not be processed until the 1st September. UK eBook orders will be processed as normal.


Browse by Subject / Forthcoming Titles
All New and Forthcoming Titles
Wildy's Book News
Vol 20 No 7
July/August 2015
Cover: Pethick's Plaque
Blog by 'Wildy' (p.1)
New Titles received in July (pp.5-21)
eBook news (pp.22-23)
Forthcoming Publications (p.24)
July Subscription Releases (pp.26-30)
Wildy Trips 2015 (p.30)
WS&H Publications (pp.32-53)

Book of the Month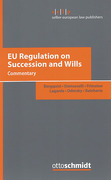 EU Regulation on Succession and Wills: Commentary
Edited by:
ISBN13: 9783504080013
Published: August 2015
Publisher: Verlag Dr. Otto Schmidt KG
Country of Publication: Germany
Format: Paperback
Price: £63.00