Jurisprudence and Legal Essays: Selected and Introduced by A.L. Goodhart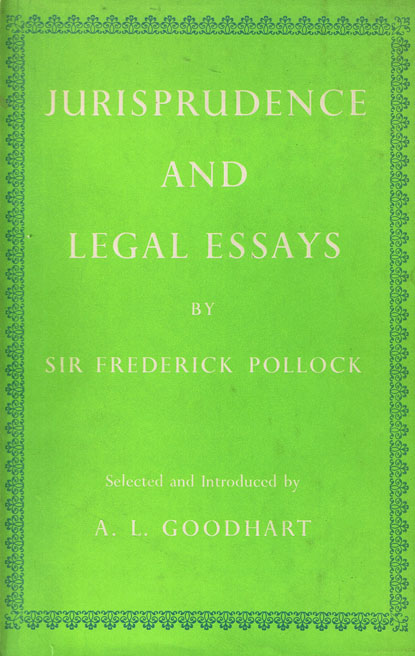 Published: June 1961
Publisher: Macmillan & Co Ltd
Country of Publication: UK
Format: Hardback
Price: Out of print

Out Of Print
...from the Preface
The sixth, and last, edition of Sir Frederick Pollock's A First Book of Jurisprudence was published in 1929, and is now out of print. It was divided into Part I, Some General Legal Notions, and Part II, Legal Authorities and Their Use. Only Part I has been republished in the present volume, because Part II, being of a more technical nature, would have had to be rewritten in large part to bring it up to date.
The essays that are here collected have been chosen from Essays in jurisprudence and Ethics (1882) and Essays in the Law(1922). The date and place of previous publication are noted at the beginning of each essay. Reference to some of Pollock's other books and essays is made in the Introduction.
No alterations have been made in the text of the jurisprudence or of the Essays because it is important that it should be Pollock's ideas and not someone else's that are presented here. It will be obvious to any reader that a number of the illustrations given in the text are out of date, as, for example, his frequent references to British India as a part of the British Empire. I have thought it unnecessary to call attention in each instance to the fact that British India has. now become the two independent nations of India and Pakistan, and that to-day, in place of the British Empire, we speak of the British Commonwealth of Nations.
I have made only the minimum number of alterations in Pollock's notes. In most cases I have left unchanged the editions of the books to which he referred as some of the more recent editions have been substantially revised so that it would have been misleading to refer to them: My own notes are enclosed in square brackets. Any additional comments on Pollock's text have been included in my Introduction.
I wish to express my thanks to Professor H. A. Hollond for his criticisms and suggestions which have been of the highest value; to Professor H.L.A. Hart for his help in the choice of title; and to my son William for reading the proofs and making some necessary alterations in the text.
A.L.G.
University College Oxford