Censorship: The Search for the Obscene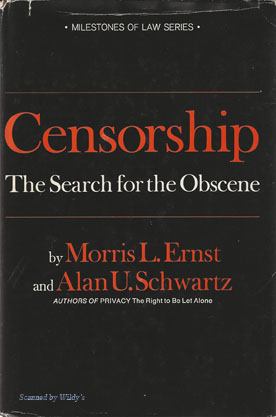 Published: April 1964
Publisher: Collier Macmillan Ltd
Country of Publication: USA
Format: Hardback
Price: Out of print

Out of Print
For reader and writer, film-maker and theatergoer-for everyone concerned in the field of communications-here is a cogent, up-to-date account of the centuries-long battle between freedom of expression and the watchdogs of public morality.
In crisp, nonlegal language, Censorship details the history of what, in law, has been considered obscene, pornographic, prurien t, indecent, and "dirty." From "notorious" novels to naturalistic movies, from sex education for juveniles to sex magazines for adults-all phases of the controvcrsia I field are covered. The role of censorship-official and private-is documented ill terms of actual cases, briefs, and judicial decisions.
Following a survey of ancient societies that reveals the relationship of sexual mores to economic and political necessities, the authors describe the development of the Protestant ethic in the United States. They demonstrate the essentially aristocratic attitude of the Framers of the Constitution toward the First Amendment, and show how the rise of universal education and literacy was accompanied by growing legislative concern with obscenity.
Focusing on the last century and a half in America and England, the authors highlight the career of the psychopathic grocery clerk Anthony Comstock as an enemy of "vice" in the United States-and the parallel activities of Sir Alexander Cockburn, Britain's Lord Chief Justice. They describe the lengths to which the "hunt" for obscenity went. Targets ranged from classics such as Payne's Arabian Nights and Gautier's Mademoiselle de Miiupin to the little known Hagar Revelly, a novel whose claim to fame is that with Justice Learned Hand's decision, it began a revolution in judicial thought.
The Ulysses case is presented In detail. as, are those of Schnitzler's Casanova's Homecoming. Radclyffe Hall's The Well of Loneliness. Lillian Smith's Strange Fruit. and D. H. Lawrence's Lady Chatterley's Lover. The activities of the United States Post Office and Treasury Department as defacto censors are described, as is the craven selfcensorship of the motion-picture industry.
Writing from the point of view that the best censorship is the least censorship, the authors bring their survey up to date 'with a revealing look at the extralegal forms censorship is taking today. The second volume in the distinguished Milestones of Law series written for general readers, Censorship is packed with intellectual fuel for thoughtful nonlawyers on a subject of national concern.