The Bar Standards Board Handbook: January 2014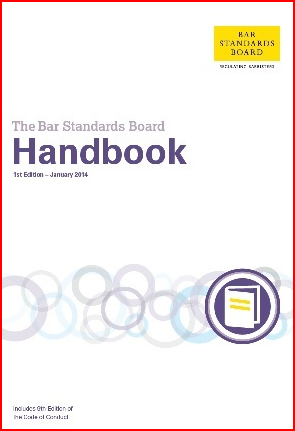 Published: January 2014
Publisher: Bar Standards Board
Country of Publication: UK
Format: .pdf Download
Price: Out of print

The Handbook published in January 2014, and includes the 9th Edition of the Code of Conduct, is available as a downloaded only from the Bar Standards Board website. It is 279 pages long.
This version of the Handbook includes the following minor amendments approved by the Legal Services Board on 19 December 2013, and other minor guidance amendments. Please note that scored through text regarding entity regulation (which is provided for those who are interested in our entity proposals) is still subject to approval by the Legal Services Board.
Justice and the rule of law are fundamental to our society. So is public confidence in the administration of justice.
Barristers play a central part in our legal system. The effective and efficient running of our legal system relies on barristers using their independent judgment when advising their client, presenting their clients' cases effectively, and carrying out their duty to the court and their other professional duties.
The trust and confidence which the public places in barristers, and the reputation of the Bar as a whole, depend on the behaviour of all barristers continuing to merit the trust reposed in them. Barristers therefore must act with integrity, honesty and independence. In their practice they must provide a competent and professional service, keep their knowledge fully up to date, give sound advice and deal frankly and courteously with clients, colleagues and others.
When acting as an advocate or conducting litigation, the role of a barrister is to present their client's case as effectively as possible. Justice requires that people appearing before a court should have a fair hearing. This in turn means that they should be able to have their case presented by skilled advocates who will do so fearlessly, independently and in the best interests of their client. The sound administration of justice also requires that those who are acting as an advocate, or conducting litigation, always observe their duty to the court, even where this conflicts with the interests of their client.