For Lawyers and Others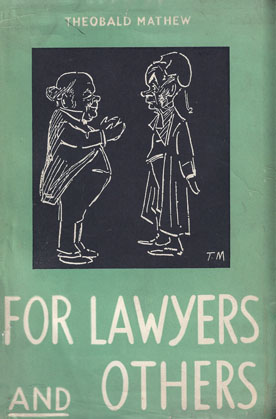 ISBN13: 002026
ISBN: 002026
Published: February 1937
Publisher: William Hodge and Company, Limited
Country of Publication: UK
Format: Hardback
Price: Out of print

Out of Print
Mr. Theobald Mathew has for marry years been known as one of the great masters of the essay-known, that is, to the comparatively small circle of the readers of the legal journals and the "heavies." In this volume, as the title indicates, he appeals to a larger audience: it is "for lawyers-and others.
The traditional alliance of law and letters may not now be as close as it was-though perhaps it never was but at any rate Mr. Mathew's delicious blend of wit, fancy and learning proves that it has not died with Augustine Birrell. Mr. Mathew is the perfect cicerone to by-ways of English legal history.
You don't know all that lies behind the cause celebre of Bardell v. Pickwick, but Mr. Mathew tells you, and you will be surprised. You don't know that the absurd diagonal red sash worn by the King's Bench Judges is not a relic of antiquity but the bright decorative idea of a Victorian Lord Chief Justice.
You have never heard of the " tubmen " and " postmen " of the old Courts at Westminster or of the farcical comedy that was the cause of the singular design of the new Law Courts in the Strand. These are only a few of the curios in Mr. Mathew's collection. For Lawyers and Others is a " rich " book.
Please note that the jacket is torn on the spine - a chunk about 2 inches high is missing.
In 1949, Patrick Hastings dedicated his book Cases in Court to Matthew:-
If from the many figures that I know so well there is one who stands out among them all, it is one who was known to few people outside his own profession, but loved by everyone within it; "a fellow of infinite jest" with a mind that saw humour in everything, and a heart that held sympathy for everyone.
I can see him now strolling through his beloved Temple, where he loved to saunter, perhaps arm-in-arm with a distinguished judge, commiserating with him upon the stupidity of the junior Bar, or else sympathising with a member of the selfsame Bar upon the stupidity of judges. No one was too highly placed to be safe from criticism, no one was too lowly for his friendship and encouragement; many a pompom: silk has been chastened and subdued by his caustic comments; many a quivering junior has been uplifted by his kindly smile. He knew when sorrow was so real that it could best be shared in silence; when troubles were so imaginary that they could best be laughed away. He had done both to me.
"My dear Pat," he once greeted me, "you look harassed and depressed. Doubtless you must have heard of the conflagration in the chambers of Spitting Joe." Spitting Joe was a member of the Bar gifted with great enthusiasm but defective teeth, so much so that his opponents were invariably bespattered with moisture when he addressed them. "But be of good cheer. This danger is past. Spitting Joe himself was quickly on the scene, and with a few well-chosen words rapidly extinguished the flames."
Perhaps Theo Mathew did not achieve the great success of others I could name, but then he did not want success; he was a glorious companion, and will be remembered long after many of his more famous contemporaries are forgotten. To me he will remain for ever as a living picture of all I have loved best at the Bar.