The Juridical Review: The Law Journal of the Scottish Universities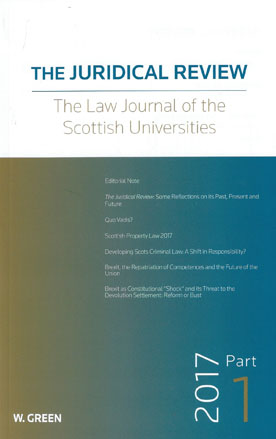 ISSN: 0022-6785
Latest Release: May 04, 2018
Publisher: W. Green
Country of Publication: Scotland
Format: Journal, 4 issues per annum
Price: £390.00

Subscription Type: Annual Subscription
Domestic Renewal Price: £390.00
Overseas Renewal Price: £418.00
Despatched in 3 to 5 days.
The Juridical Review is Scotland's leading refereed law journal, giving you the confidence that the contents are of the highest quality.
Prepared by Professors Gerry Maher and Kenny Miller, it consists of four issues per year, each comprising coverage and comment on the latest cases and most important decisions.