The Incompleat Surveyor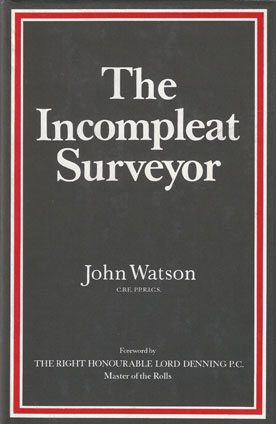 ISBN13: 003093
ISBN: 003093
Published: June 1973
Publisher: Estates Gazette
Country of Publication: UK
Format: Hardback
Price: £15.00
(Second Hand)

Out of Print
John Watson, as he puts it, has lived a double life. In his professional life he is a surveyor of some distinction. Born in 1903, he qualified as a chartered surveyor in 1926, and in 1949 became President of the Royal Institution of Chartered Surveyors, the youngest in its 105 years' history.
From 1957 until 1969 he was a member of the Lands Tribunal. In his non-professional life he is a well-known magistrate, worked voluntarily for many years in prisons and borstals, and for 32 years was chairman of a London Juvenile Court.
They include his upbringing, farming in the early 1920s, articled pupils and practical jokes, the vagaries of modern valuation, drainage, rates and rating, problems of working-class housing, London estate management during the blitz, town and country planning, New Towns, and reminiscences of people he has known and of the Lands Tribunal that are just short of indiscreet.
Lord Denning writes in his foreword: 'This book is instructive and yet entertaining, learned and yet witty, accurate and yet easy to read.' He adds (to the author): 'You have given us a good book, fit to be read not only by surveyors, but by many besides.'