The Royal Conscience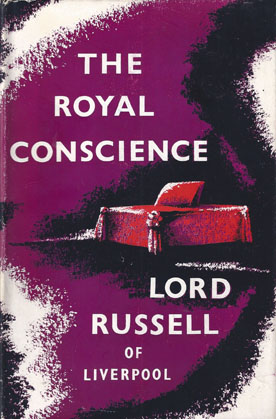 ISBN13: 004013
ISBN: 004013
Published: June 1961
Publisher: Cassell and Company, Ltd
Country of Publication: UK
Format: Hardback
Price: Out of print

Out of Print
Lord Russell of Liverpool, himself a barrister; has written in this book accounts of the lives of thirteen eminent men who have occupied the Woolsack since the Restoration. Each of them has a claim to particular fame, although infamy might better apply to Judge Jeffreys.
Several are well known today for the legal reforms which they brought about. In the laws of real property and of land registration, and in the reorganization of the judicial system, the names of Lords Westbury, Cairns, Selborne, Halsbury, Haldane, and Birkenhead figure prominently. Lords Hardwicke, Camden, and Campbell were responsible for other equally important improvements.
The Lord Chancellor's duties and responsibilities are so many and varied that it may well be wondered how one man can carry them all. He is at once a member of the judiciary, the legislature, and the executive; he is a Cabinet Minister; he is the Speaker of the House of Lords.
He presides over the House of Lords when it sits as the supreme court of appeal, and over the Judicial Committee of the Privy Council. He is the President of the Supreme Court of Judicature, and the Sovereign's chief legal advisor. He is the Keeper of the Great Seal, and also Keeper of the Queen's Conscience. In this book are the lives of thirteen of the men who have filled this office, and who have left their own seals on the laws and history of Britain thereby.
Some were good lawyers, some good judges, some good parliamentarians, some good administrators. A few were all four. All of them filled one of the most onerous offices in the Kingdom.