What Gusto: Stories and Anecdotes About Oliver Wendell Holmes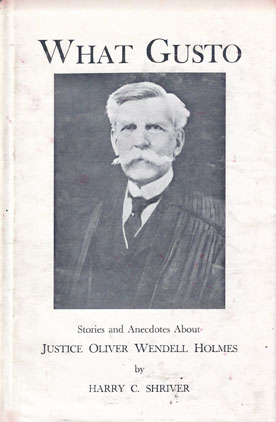 ISBN13: 004036
ISBN: 004036
Published: June 1970
Publisher: The Fox Hills Press
Country of Publication: USA
Format: Hardback (36 Pages)
Price: Out of print

Out of Print
Justice Oliver Wendell Holmes (1841-1935) is the most brilliant and appealing jurist that America has produced. This genius of the law had a rare charm of personality. In his opinions, letters, and occasional writings his vivid and simple style are shown at their best.
But his stories and anecdotes likewise have a universal interest and appeal. It is in these vignettes that we see the great human figure - examples of his learning, wit, wisdom, irony, and facets of his character. It is no accident that the lore about Justice Holmes has not been forgotten. He possessed a depth of thought that is rare indeed.
What Gusto contains some of the best known anec-dotes about the Justice as well as others told here for the first time. It presents his ideas and stories in singular beauty and felicity. In these changing times when the law and judges are so much in the public eye, it is refreshing to be reminded of the thought and character of one of the great leaders of the recent past.