Halifax: The Life of Lord Halifax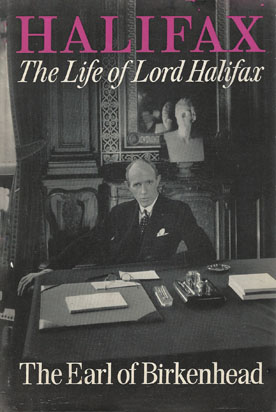 ISBN13: 004042
ISBN: 004042
Published: December 1965
Publisher: Hamish Hamilton
Country of Publication: UK
Format: Hardback
Price: Out of print

Out of Print
The subject of this biography, by the Second Earl of Birkenhead, was a fascinating and unusual figure in English public life. Lord Halifax was one of those rare statesmen for whom politics was far from the most engrossing part of existence, being transcended by his deep love of the countryside, and his lifelong devotion to his Anglo-Catholic faith.
In a way, Halifax seems to walk out of the eighteenth century, or out of early Victorian days when the squires, especially on the Liberal side, were still the chief personalities of the Government of the country, and although he was nominally a Conservative, he could be more accurately described as a Whig-of the same school as Palmerston, or Lord John Russell, or. if we could go further back, of Charles James Fox who united the traditions of great binh and a keen regard for popular liberties.
Although Lord Halifax was a Yorkshire aristocrat- who inherited wealth, and three great houses. he was also endowed with a powerful mind which enabled him to win a First Class in Modern History at Oxford, and a Fellowship of All Souls.
His political career did not at first develop in a spectacular way until he became Viceroy of India at the age of forty-five; and it was then that the drama of his life began. His arrival in India coincided with the greatest upsurge of nationalism ever known on the sub-continent, and it was his supreme merit that he recognised its force more clearly than almost any of his contemporaries, and was instrumental in guiding India towards the control of her own destiny. His friendship with Gandhi and the pact he negotiated with him roused the violent indignation of Winston Churchill, and caused him to make passionate attacks upon the Viceroy.
Henceforth, although he never appeared to seek it, high office continued to descend on Lord Halifax, and the wealthy Yorkshire aristocrat outstripped most of his more ambitious contemporaries. The most controversial period of his life was that in which he held the post of Foreign Secretary in the Government which negotiated the Munich Settlement, and identified himself with the policy of appeasement adopted by the Prime Minister Neville Chamberlain.
Although Winston Churchill had strongly opposed Munich, he turned to Halifax in the hour of Britain's greatest need, and appointed him Ambassador to the United States in January 1941. It was there, in critical days, that Halifax crowned his career by one of the greatest ambassadorships ever known in Washington. This is an engrossing story of a man who reached the highest offices without ever appearing to seek them, and in the background are always the truly absorbing interests of his life, his devotion to his wife, whose support contributed so much to his happiness and success, the care of his estates, his love of country life, and the guiding star of the Anglican religion.
Readers of Lord Birkenhead's biographies of his father, the famous F. E. Smith, first Earl of Birkenhead, of Stratford and of Viscount Cherwell (Professor Lindemann) will not need to be told that his life of Lord Halifax is a work in which meticulous research and felicity of style are perfectly blended.